White Nationalist PAC Unleashes Radio Ad For Trump 'Who Will Safeguard Interests of Christians'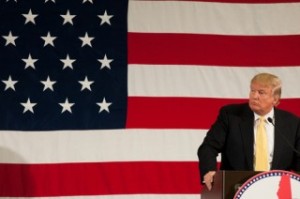 The pro-Donald Trump white nationalist PAC responsible for placing robocalls to voters during the GOP primary is rolling out a series of radio ads targeted at over a half-dozen states, the L.A. Times reports.
The ads are paid for by William Daniel Johnson, a Los Angeles attorney, via the super-PAC American National, which is unconnected to the Trump campaign.
The ad says: "Our country is at a crossroads and time is running out." It asks listeners, "Do you want a strong leader who will secure our borders and stop the flow of illegal aliens and radical Islamic terrorists?" And: "Do you want a president who will safeguard the interests of Christians?"
Johnson is a white nationalist who has expressed a desire to create "a white ethno-state" since "that's the only way western civilization and the white race will survive." He is also the president of the American Freedom Party (AFP), which was "initially established by racist Southern California skinheads," and "aims to deport immigrants and return the United States to white rule," according to the Southern Poverty Law Center.
The Trump campaign selected Johnson as one of its California delegates. After Mother Jones broke that story, the campaign blamed a "database error" and said Johnson would no longer be a delegate. The AFP subsequently confirmed that there were plenty of other white nationalists among Trump's delegates.
During the primary, Johnson's PAC sponsored robocalls that said, "We don't need Muslims. We need smart, well-educated white people." Another featured a woman identifying herself as a member of the AFP and saying, "I am voting for Donald Trump because he will not only be presidential, he will put America first. Furthermore, he will respect all women and will help preserve Western civilization." Trump said he "would disavow" the calls, but explained that they were the result of people being angry.
Johnson also established a 24/7 phone line to field legal and medical questions for people who had been bullied for supporting Trump.
The ad is set to run in Florida, Arizona, Missouri, Alabama, Oregon, Nevada, and Tennessee.
—
Sam Reisman (@thericeman) is a staff editor at Mediaite.
Have a tip we should know? tips@mediaite.com