ProPublica Fires Back at Kentucky Gov. Matt Bevin Blasting Them: 'We Believe in Evidence'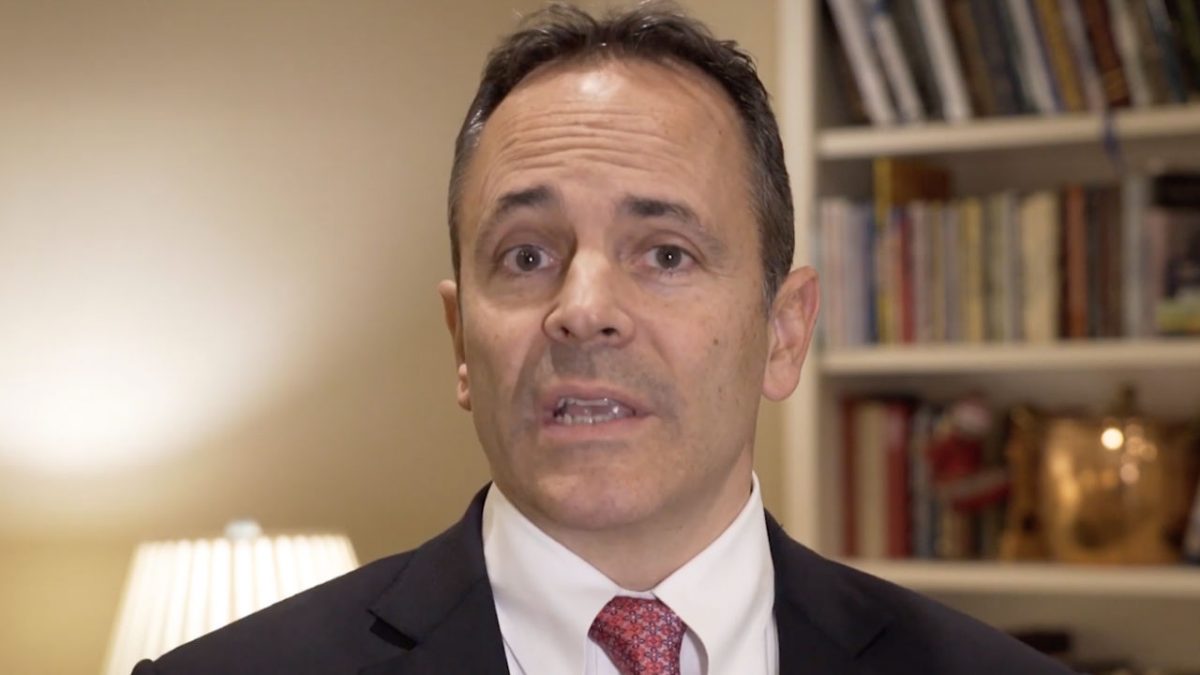 Kentucky Governor Matt Bevin posted a video of himself going on a rant against ProPublica for teaming up with the Louisville Courier-Journal on an investigative project. Bevin accused ProPublica of harboring gross liberal bias, pointed to some of their funders (including "George 'I Hate America' Soros"), and accused the Courier-Journal of giving up on objectivity.
This was before a single word of the joint investigative report was written.
ProPublica fired back in a tweetstorm defending themselves and noting previous critical reporting on Bevin from the Courier-Journal:
We hear someone is talking about us.

And, you know, it's always polite to respond. pic.twitter.com/BlqsD7MUe2

— ProPublica (@ProPublica) December 13, 2018
Very nice to meet you too, @GovMattBevin!

You asked who @ProPublica is. We thought we'd give you some answers. Like everything we do, they are, you know, actually accurate. https://t.co/hiRsyoQXhk

— ProPublica (@ProPublica) December 13, 2018
First, we're thrilled to be partnering w/ the fine folks at the @courierjournal. They're just one of 14 newsrooms we'll be supporting.

The paper's reporting project is v promising. We won't say more b/c we believe in gathering facts first. https://t.co/ZbtsXxd7oy

— ProPublica (@ProPublica) December 13, 2018
We noticed you mentioned two of our donors – who just happen to be Jewish.

So here are a few *facts* about our funding:

We had *34,000* donors last year. George Soros provided less than 2 percent of our revenue.
https://t.co/ogUWYv5HXx

— ProPublica (@ProPublica) December 13, 2018
You called us a "biased, left-wing organization." Actually, we believe in evidence. Hard, indisputable evidence. Carefully gathered and precisely told.

Perhaps that's why our peers have given us 4 Pulitzers, 3 Peabodys, 2 Emmys, 6 Polks, a duPont and a National Magazine Award.

— ProPublica (@ProPublica) December 13, 2018
Anyway, we certainly hope we can keep the dialogue going, @GovMattBevin. We'll be in touch with questions and would love *your* answers.

— ProPublica (@ProPublica) December 13, 2018
And for those who are curious, we'll absolutely send you the investigation when it comes out.

Sign up for our Big Story email alerts: https://t.co/HQI1vUn6nx

— ProPublica (@ProPublica) December 13, 2018
P.S. Our new partners at the @courierjournal have been doing lots of good work, like this recent story about how @GovMattBevin hired a buddy for a govt job and then gave him a $215,000 raise. https://t.co/VLji0ZMEiq

(Via @RobertFaturechi)

— ProPublica (@ProPublica) December 13, 2018
[image via screengrab]
Have a tip we should know? tips@mediaite.com
Josh Feldman - Senior Editor