Public Service Announcement: Florida Sheriff Urges Residents to Not Shoot at Hurricane Irma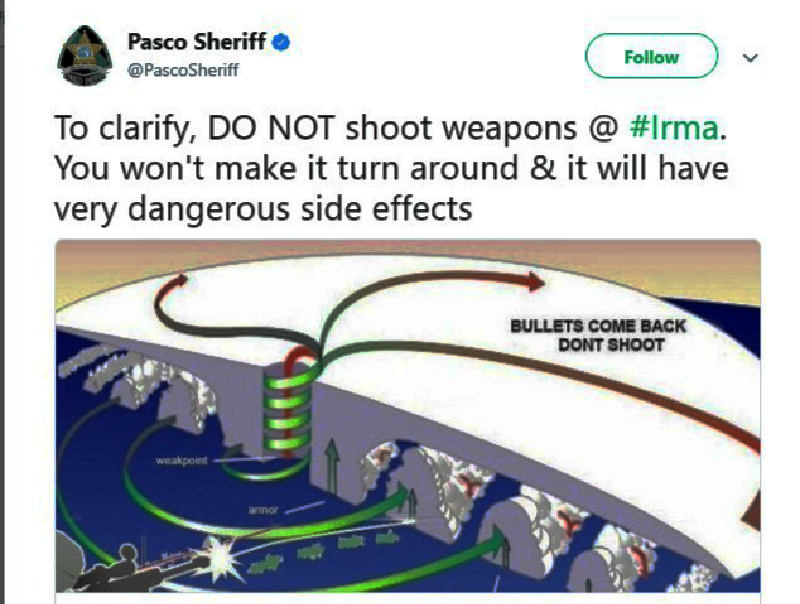 I guess Florida gonna Florida.
Yesterday, the Pasco County Sheriff's office felt the need to take to Twitter to urge residents not to bust some caps into Hurricane Irma following a viral Facebook post by a Florida man calling for others to shoot at the storm.
On Friday, 22-year-old Ryon Edwards created a Facebook event called 'Shoot at Hurricane Irma' in which he said that folks needed to show Irma "that we shoot first." Before long, the event took on a life of its own and over 50,000 people expressed interest in shooting at the hurricane, scheduled for Sunday at 10 AM.
With the Facebook post grabbing so much attention, the Pasco Sheriff sent the following tweet:
To clarify, DO NOT shoot weapons @ #Irma. You won't make it turn around & it will have very dangerous side effectshttps://t.co/CV4Y9OJknv

— Pasco Sheriff (@PascoSheriff) September 10, 2017
Meanwhile, after the moment of truth arrived this morning, Edwards posted the following comment to the event's Facebook page:
Well guys, it's here. The moment we've been waiting for. It was cool to see the response this got from facebook. On another note, I've learned that about 50% of the world could not understand sarcasm to save their lives. Carry on.
When asked earlier why he created the event, Edwards said it was due to a "combination of stress and boredom."
[images via screengrab]
—
Follow Justin Baragona on Twitter: @justinbaragona
Have a tip we should know? [email protected]