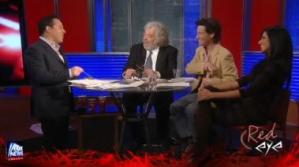 Felix Dennis gave a rare TV interview this week to Fox News' late night news/comedy hybrid Red Eye.
The show is hosted by Greg Gutfeld – who Dennis has fired several times during Gutfeld's tenure at his magazines. This point was discussed, as was climate change, poetry and more.
This instruction from Gutfeld should give an indication to the long, interesting and successful career Dennis has enjoyed:
He sang with Mick Jagger, he made a hit single with John Lennon, he launched Maxim, one of the greatest men's magazines ever. He's also been called one of the world's greatest poets. He owns The Week, a magnificent news magazine. He used to do crack cocaine in a basement. Worse he hired me as Editor-in-chief of Stuff magazine, then he fired me as Editor-in-chief of Stuff magazine.
Dennis made sure to correct Gutfeld: "I fired you three times, which you forgot to tell them." (It was twice at Stuff, once at Maxim.)
One of those reasons briefly discussed was Gutfeld's "Ikea Sex Party," story, which ended with an apology to the furniture maker and an out-of-court settlement. Red Eye contributor Bill Schulz was also on set for the interview – and was also someone fired by Dennis. The reason? His work on a feature called "Maxim for Kids," which Dennis described as a "horrible, perverted idea."
Dennis also talked about his thoughts on climate change ("Yeah the climate is changing because the climate has been changing since there was a climate," he said and, "bankrupting everybody is loony"), and his poetry, which has been much acclaimed in recent years.
When I interviewed Gutfeld for a mediabistro.com feature last year, I asked about his time working with Dennis, and got a pretty fantastic story. Here's that Q&A:
Q: Your former boss Felix Dennis claimed, then unclaimed, to have killed a man. What's your take, and how excited are you to possibly be deposed?
A: Here's an interesting thing. In the Independent, Felix Dennis called me Darth Vader, in an interview he did two years ago. So how cool is it that a confessed murderer thinks I'm evil? That's like the most awesome thing ever. Uh, he's definitely not a killer, but he craves attention and when he drinks… During my job interview at Keanes in 2000 he confessed to me his crack addiction. I was with Andy Clerkson and Andy Turnbull, we're sitting at a table in Keanes. Felix didn't like me to begin with, and I don't think he wanted me to be the editor and he thought maybe I was a bad egg or troublemaker, and he started telling me about his crack addiction. How he'd hide in this room with hookers all day and do crack. And he leaves, and I look at the two Andy's and I go, "Wow that's really weird," and Andy goes, "Mate we've never heard that before in our lives." I'm like, "You're kidding me?" It turns out it's true. He has a desire to speak, he loves attention and he also drinks. So I think he was pushing the envelope with this lady and now he regrets it. I don't think it's going to get as far as a deposition
Here are both parts of the exclusive interview (h/t StoryBalloon):


—–
» Follow Steve Krakauer on Twitter
Have a tip we should know? tips@mediaite.com