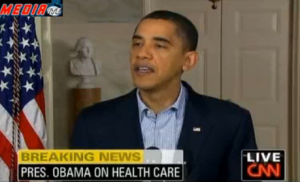 If you're online then you've probably already heard: after 13 hours of negotiations with Senator Ben Nelson of Nebraska, the Democrats have announced that they have the 60 votes they need to pass a health care reform bill before Christmas. That is, as long as they can read all 338-pages before midnight on Saturday. And as long as Rep. Stupak doesn't play spoiler. But! Things are looking good enough for President Obama to comment:
"I'm sorry to drag you guys out in this weather," Obama began, before announcing to the American people "the vote they deserve." The president started in on the specifics, but the takeaway was this: "We are on the cusp of making heath care reform a reality," he said, also praising the compromise amendments added to the bill in the past days and weeks. "This will be the largest deficit reduction plan in over a decade," the president added, citing $132 billion dollars over the first decade of the program.
And like any good millenial, I wondered how the web's most newsy, opinionated and wide-read sites were reporting the milestone announcement. My first stops? From oldest media to newest: New York Times, Washington Post, CNN, Fox News, Drudge Report, Gawker, Huffington Post and Hot Air. Click through to the next page to see their respective front pages on this (maybe) momentous afternoon — some of it is quite telling.

>>>NEXT: Screenshots of some media front pages on the afternoon of Obama's announcement…
Have a tip we should know? tips@mediaite.com