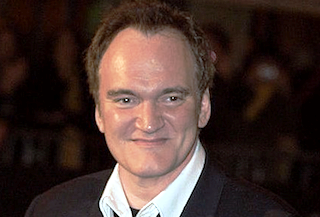 Quentin Tarantino's next project was going to be a film called The Hateful Eight, a Western that would rumored to feature parts of current Best Actor nominee Bruce Dern along with Samuel L. Jackson and Christoph Waltz. But after the 146-page screenplay leaked online, he decided to abandon the project. Now, he's suing the media organization that facilitated the leak.
According to The Hollywood Reporter's Eriq Gardner, Tarantino has filed a copyright lawsuit against Gawker Media, whose Defamer blog posted a link to the script last Thursday.
The lawsuit reads:
"Gawker Media has made a business of predatory journalism, violating people's rights to make a buck. This time, they went too far. Rather than merely publishing a news story reporting that Plaintiff's screenplay may have been circulating in Hollywood without his permission, Gawker Media crossed the journalistic line by promoting itself to the public as the first source to read the entire Screenplay illegally."
It goes on to use the post's headline, "Here Is the Leaked Quentin Tarantino Hateful Eight Script," as evidence that the company was intentionally taking credit for the leak:
"Their headline boasts… 'Here,' not someplace else, but 'Here' on the Gawker website. The article then contains multiple direct links for downloading the entire Screenplay through a conveniently anonymous URL by simply clicking button-links on the Gawker page, and brazenly encourages Gawker visitors to read the Screenplay illegally with the invitation to 'Enjoy!' it."
Tarantino is demanding damages of at least $1 million.
[photo via Wikimedia Commons]
— —
>> Follow Matt Wilstein (@TheMattWilstein) on Twitter
Have a tip we should know? tips@mediaite.com