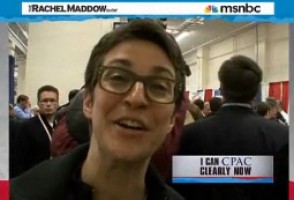 As we reported earlier, Rachel Maddow was live on the ground at the Conservative Political Action Conference yesterday, rockin' the geek glasses and her patented brand of humble charm.
I managed to track her down on the exhibit hall floor and ask her how the folks at CPAC were treating her. While there's little that's shocking or surprising about this clip, as the day progressed, I did learn something that probably will surprise you: a lot of these movement conservatives have a considerable soft spot for Rachel Maddow.
Around lunchtime yesterday, CPAC's "Blogger's Row" began to buzz with the news that Rachel Maddow was down on the exhibition floor. Although I've corresponded with her, I had never actually met her, so I went down to say hi. When I caught up to her, she was holding court with a series of convention-goers, each of whom spoke with her at length, all very friendly. I asked Rachel how the CPAC-pack had been treating her:
That wasn't it, though. For the rest of the day, people were talking about her appearance, myself included, and with one notable exception, the response was all very positive. While they all disagree with her politics, most said she was very appealing, relatively fair, and an example of what others in her field ought to emulate. One prominent conservative blogger even remarked, "People like Sean Hannity could learn a thing or two from her about manners."
The one exception was Andrew Breitbart, who stopped by my lunch table and remarked that he'd like to ask Maddow "Why are you so nice? Why are you being nice to a bunch of Nazis?"
I told him he was thinking of the wrong news personality, that Maddow was generally very fair about conservatives.
Really, it isn't that shocking that conservatives like someone as smart and engaging as Rachel Maddow. The surprising thing was how many were willing to admit it, if only privately.
Have a tip we should know? tips@mediaite.com