Rachel Maddow Called "Classless," Booted From Christine O'Donnell's Headquarters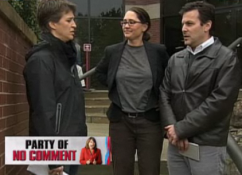 Christine O'Donnell appears to be taking her avoiding the media habit to a whole new level. Rachel Maddow traveled to Delaware yesterday to do some firsthand reporting on the much-discussed Senate race there. She Twittered yesterday morning that she was having a tough time actually tracking down O'Donnell, alas, that was just the beginning. When she finally did find the O'Donnell HQ she and her team got booted!
On last night's show, which was taped in Delaware, Maddow asserted that before they went down to Delaware she and her team had tried with all their "might" to get Christine O'Donnell or one of her staff to talk to them. No such luck. So instead they ended up stopping by O'Donnell HQ but without a camera crew because they didn't want to be "jerks." Alas again. After being given off-the-record directions to O'Donnell's office Maddow producers eventually spoke to a number of people involved in the campaign in the hopes of interviewing someone. Instead they were informed their presence was "unacceptable" and that Maddow had been "classless" in her coverage of O'Donnell and then were unceremoniously ushered out.
"The thing that's frustrating," said Maddow, "is the she doesn't have any public events. So we can't compare public event with Chris Coons to public events with Christine O'Donnell." Unless she's secretly holding them! Meanwhile at the Coons event Maddow defended her coverage of O'Donnell to Coons supporters who felt the media was giving her too much attention. Said Maddow: "Put yourself in my shoes 'I have secret information from China' and I'm just supposed to file that away?!" Not likely. Watch below.
Have a tip we should know? tips@mediaite.com