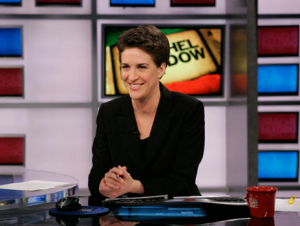 In a profile of Rachel Maddow, The Daily Beast's Howard Kurtz reveals how Maddow puts together her nightly show and also gets many comments praising the new "face of a cable network." With Keith Olbermann gone, MSNBC is clearly looking to Maddow to lead the way and she seems eager to assume the position.
MSNBC's President Phil Griffin says of Maddow, "she's our biggest show . . . [she's] so friggin' smart . . . Very few people can be so honest with a remark, a giggle, a serious look. There's no performance art. That performance is Rachel." Even conservative commentator and former co-worker Tucker Carlson has nice things to say about Maddow. Despite Maddow seemingly being pleasant to work with, one thing that isn't different between her and Olbermann is a distrust of her cable news competition.
Maddow's take on Glenn Beck's recent Muslim-related shows is that he is "running baroque conspiracies that are designed to freak people out about bogeymen coming to get them, conspiracies that are unsupported by the facts." And her harshest blow is saved for the entire Fox News Channel, dismissing it as a "McCarthyite chamber of horrors . . . You can't really call yourself a news channel if that's what you broadcast."
Kurtz notes that "Maddow's repeated attacks have not provoked a response from Fox" yet maybe with her latest round of criticism things might change. Or maybe since Fox rarely acknowledged Olbermann's comments, they plan on using a similar strategy against Maddow to help make her disappear too.
Check out Kurtz's full story on Maddow.
Have a tip we should know? tips@mediaite.com