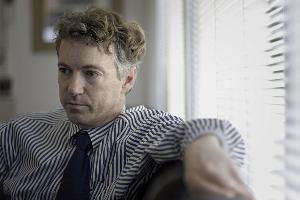 Get ready for the second round of "Meet Rand Paul" on the cable news shows. Just a few weeks after the Kentucky Senatorial candidate was accused of being too Libertarian after criticizing the Civil Rights Act, his opponent, Jack Conway, is now claiming he's not Libertarian enough. The charge? Paul, who strongly opposes government handouts, receives a large amount of Medicare and Medicaid payments from his ophthalmology practice. These are pretty damning accusations. If there's anything in politics that's worse than being called a racist, it's being called a hypocrite.
From the Associated Press:
His campaign has said about half of Paul's medical income in Bowling Green has come from Medicare and Medicaid payments — which it says is in line with the average for eye doctors around the country.
Since 2005, Paul has received slightly more than $130,000 in Medicaid funds, about one-third of the amount he billed the program, according to the Kentucky cabinet that administers the state-federal health insurance program for the poor and disabled.
As for the exact figures on his Medicare payments, those are unclear as Paul and his campaign have refused to disclose them. This refusal has worked as even more ammunition from the Conway team.
So, is this a fair criticism? A little bit, yeah. The problem is, Libertarianism is a tough ideal to hold to, especially when you run a medical office that caters primarily to the elderly.
From the Associated Press:
"Paul campaign manager Jesse Benton defended Paul's acceptance of Medicare and Medicaid payments, saying that to shun the two health care programs would "penalize his older patients or his poor patients."
Paul said he sees patients who rely on the government programs, private insurance or who pay for their own care.
'I don't discriminate in my practice, and though I'd prefer to have less government intervention in … medicine, I put my patients first in this matter,' the Republican said. 'My medical practice has never been about any ideology or running for office.'"
So, will this hurt Paul? Maybe. The deciding factor will probably be all of the Libertarians who stood by him during the Civil Rights brouhaha. If they feel let down he might be in trouble. It's clear though that he'll be spending a lot of time in front the TV cameras this week. Just don't expect to see him on MSNBC.
Have a tip we should know? tips@mediaite.com