Rand Paul Grills DHS Secretary on Surveillance: 'There Is No Person Named Verizon'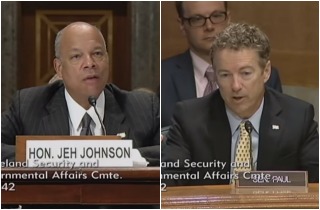 Sen. Rand Paul (R-KY) grilled Secretary of Homeland Security Jeh Johnson on Wednesday over the government's surveillance capabilities, particularly hammering him on whether those practices fall in line with the Fourth Amendment.
Right off the bat, Paul, a 2016 presidential candidate, asked Johnson if he believes the Fourth Amendment "applies to third party records," specifically those of telephone companies. Johnson said that question is "beyond my competence as secretary of homeland security" to answer intelligently.
"Here's the problem, though, your agency is in charge of cooperating and being part of this," Paul said. "And that's the whole debate we have in our country is over whether we should do this."
In his earlier testimony, Johnson lamented the fact that telephone companies are moving toward more encryption of data. Paul said they are doing this because they feel as if the government is taking records without a warrant.
"I would propose that there is no person named Verizon, so you do not have an individualized warrant under the Fourth Amendment when to say to Mr. Verizon we want hundreds of millions of records. And this is a debate, and it's an important one. And if we're going to complain about encryption, and we're going to complain about individuals wanting privacy, we really need to have a thorough discussion of the Fourth Amendment and the complaints by many of us that you're doing something without a warrant."
Paul called himself "one of the biggest civil libertarians there is," telling Johnson he is completely fine with the government taking records if they first get a warrant. He said there needs to be a system where "judges are on call 24 hours a day," just as police departments around the country do.
"That's why we're mad, and that's why people are attempting to encrypt information is to prevent the government from doing illegal searches of our records," Paul added.
In his response, Johnson claimed "the marketplace is demanding deeper and deeper encryption into places where the warrant authority of the government does not extend." Paul questioned him on that specific point, saying the reason why that is happening is due to the "over-zealous" government that has no "sense of decency toward privacy."
Watch the video below, via YouTube:
[Image via screengrab]
— —
>>Follow Andrew Desiderio (@forza_desiderio) on Twitter
Have a tip we should know? tips@mediaite.com