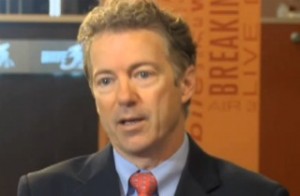 Sen. Rand Paul (R-Kentucky) is all for using American military might in order to prevent Iran from developing nuclear weapons, should diplomatic tactics fail.
During a Tuesday radio interview with Mark Levin, the 2016 GOP presidential hopeful expressed his belief that "military force always has to back up diplomacy." Levin had pressed the subject on Paul earlier, asking the senator, "If they violate this treaty hypothetically, and they're building nukes, would you support — if you thought it was in America's self defense interest — attacking them?"
Paul responded in the affirmative, but with the caveat that a military response would always have to be intertwined with diplomacy:
"Diplomacy doesn't work without military force behind it, and I think making that decision is a difficult decision, but ultimately yes you have to have military force that backs up the diplomatic negotiations that you have. We have to say that there has to be force as a backdrop to this."
Despite the senator's rhetorical posturing, he didn't spent the majority of the interview hyping up the need to militarize America's approach to its nuclear deal negotiations with Iran. Diplomacy, he stressed, was of the utmost importance since, in the hypothetical event of an armed conflict between the two countries, the heightened context could make it easier for Iran to develop or obtain a nuclear bomb:
"If we were to use military force I think we delay a nuclear weaponization but I think ultimately what you end up having is you have situation where there are no more inspections and there may well be a quicker development of a nuclear weapon after that."
Don't ye fret, Paul supporters and Obama naysayers. Just because Paul made the points he did, it doesn't mean he's all for President Barack Obama's ongoing support for the current Iran deal in the works. He was especially perturbed by the president's eagerness "for a deal that he cut a deal that I think allows the collapse of the sanctions" before any kind of oversight can guarantee Iran's compliance.
Listen to audio below, courtesy of BuzzFeed:
[h/t BuzzFeed]
[Image via screengrab]
— —
>> Follow Andrew Husband (@AndrewHusband) on Twitter
Have a tip we should know? tips@mediaite.com