Rand Paul to NY Times: He's 'Restructuring' Office to Avoid Future Plagiarism Issues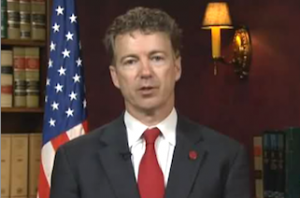 Senator Rand Paul has been having a bumpy week, after Rachel Maddow and BuzzFeed caught Paul plagiarizing from other sources almost word-for-word. The issue has gotten worse and worse for Paul every day, and now Paul is telling The New York Times that there will be some "restructuring" in his office to avoid future issues.
Paul's office released a statement earlier today apologizing for omitting citations in a number of speeches and writings of Paul's, and the senator told the Times that while he can't guarantee people won't find more examples of such, he is taking steps to make sure it doesn't happen in the future.
[Paul] said in an interview Tuesday that he was being held to an unfair standard, but that there would be an office "restructuring" to prevent future occurrences…

"What we are going to do from here forward, if it will make people leave me the hell alone, is we're going to do them like college papers," he said. "We're going to try to put out footnotes. We're going to have them available. If people want to request the footnoted version, we're going to have it available."
Paul added that the instances people have already discovered were most likely due to his busy schedule, and admitted on Sean Hannity's show Monday night that he's made mistakes and hasn't always quoted things "perfectly."
So perhaps now this feud can be settled and won't have to be resolved by a bout of fisticuffs.
[h/t The Hill]
[photo via screengrab]
— —
Follow Josh Feldman on Twitter: @feldmaniac
Have a tip we should know? [email protected]
Josh Feldman - Senior Editor