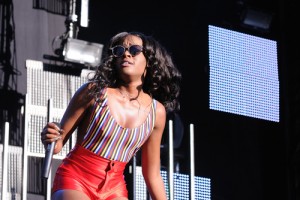 American-born rapper Azealia Banks, whose greatest hits for 2015 so far include telling Eric Bolling to "go suck a dick" and claiming that she wants to "f*ck the President," has stepped into it yet again with her social media accounts. This time, however, the brewing feud involves Donald Trump, BuzzFeed's Conz Preti, and the larger topics of immigration and reparations.
Yeah, I know. It's a lot. So just try to bear with me for a few minutes.
It all started on Monday afternoon when Banks posted a note to her Instagram account asking the rhetorical question, "Do you think it's bad that I sort of agree with [Trump's] stance on immigration?"
"Nor for any reason other than black Americans still not having been paid reparations for slavery," she says. "It's selfish, but America has been really good at convincing me that everyone else's problems are more important than my own."
In several followup Instagram posts, Banks goes on to qualify her initial comments, calling them a "social experiment" and putting much of the blame on the media for its misrepresentations of various important political issues.
She even goes so far as to opine that "someone has to be on the bottom for someone to be on top. I didn't chose to come to the United States. I was BOUGHT here against my will. I cannot combined the frustrations of others with my own because it is NON-PRODUCTIVE FOR ME."
Ignoring the fact that Banks was actually born in Manhattan and raised in Harlem (i.e. the United States), let's fast-forward almost 24 hours.
On Tuesday, Preti — Americas for BuzzFeed's Regional Director — took a screenshot of Banks' first Instagram post and tweeted a response to the singer:
Dear @AZEALIABANKS, I'm not sucking up state aid nor your gov money. I'm busting my ass working and not bothering you pic.twitter.com/ztBL7eku7V

— Conz Preti (@conz) September 8, 2015
Needless to say, Preti's quip caught Banks' attention. The not-necessarily-pro-Trump-but-not-pro-immigrants-either singer decided to amp things up bit, least of which included the assumption that Preti was "undocumented":
@conz yes but eventually you and the other 10 million undocumented immigrants will have children who need schooling and need food stamps etc — AZEALIA BANKS (@AZEALIABANKS) September 9, 2015
Turns out, that was (obviously) an assumption on Banks' part:
@AZEALIABANKS who said I'm undocumented?

— Conz Preti (@conz) September 9, 2015
Not that Banks really cared:
@conz who's going to pay for it? ME duh lol, I'd much rather have my tax dollars go to making schools better then spreading schools thin — AZEALIA BANKS (@AZEALIABANKS) September 9, 2015
When pressed by another tweeter about the matter, Banks reiterated her Instagram posts' point about African-Americans' problems coming first:
@ROCIOGR @conz no honey, my people were NOT immigrants. We were bought here by force. And America has to deal with me before they deal wit u

— AZEALIA BANKS (@AZEALIABANKS) September 9, 2015
There's definitely a lot of #dumb going on in this whole exchange. However, perhaps the best summation came in the form of a rather good guess as to what was happening in Banks' camp:
@conz @soalexgoes someone's management is probably slamming their heads on a desk right now, woof

— alix (@alixmcalpine) September 9, 2015
[Image via Shutterstock.com]
— —
>> Follow Andrew Husband (@AndrewHusband) on Twitter
Have a tip we should know? [email protected]