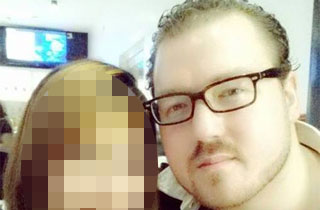 It's like American Psycho but with a British guy: a Merrill Lynch equity trader was arrested and charged with murder after he called Hong Kong police to his apartment, where they found two women, both gruesomely killed.
Rurik Jutting, a high-powered Cambridge University graduate who mysteriously left his job at Merrill days before the murders, was arrested upon confessing to the murders. Police found one victim with cuts on her neck and legs, and a second woman stuffed in a suitcase, along with sex toys and cocaine. Both women are believed to be Indonesian prostitutes.
According to the Daily Mail, the Patrick Bateman analogies are accurate: Jutting attended an elite boarding school before going to Cambridge, was a member of many exclusive clubs, earned a six-figure sum, previously worked at Barclays London, "dined with a string of beautiful women in exclusive restaurants across the globe," and was a notorious partier.
The 29-year-old Jutting had been reposting a string of erratically sunny Facebook messages hours before the murder — "Money DOES buy happiness" — which is also something Patrick Bateman would do.
"Is 29 the perfect age?" he also posted that day. "I feel more secure, I'm a better friend and I know my limitations. No wonder 29-year-olds are the most popular age group."
Hong Kong residents are shocked, given that the city is well-known for its low crime rate and the sex industry is relatively low-risk there, compared with similar cities around the world.
[h/t BBC]
[Image via Facebook]
—
>> Follow Tina Nguyen (@Tina_Nguyen) on Twitter
Have a tip we should know? tips@mediaite.com