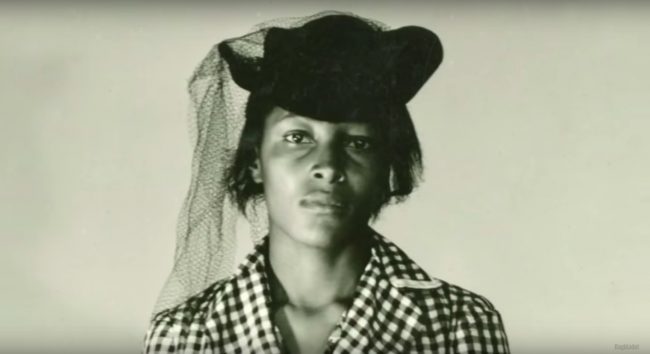 Recy Taylor's granddaughter, Mary Joyce Owens, will be attending tonight's State of the Union as Alabama Rep. Terri Sewell's guest.
Why is this a big deal? Who was Recy Taylor?
Before Oprah Winfrey told Taylor's story in her rousing speech accepting the Cecil B. DeMille Award at the Golden Globes, the Alabama woman's name was not ubiquitous, but her story of remarkable bravery made her a civil rights icon.
In 1944, while walking home from church in Alabama, Taylor was abducted and raped by six white men. Despite death threats from her attackers warning her against ever telling her story, Taylor brought charges before the justice system. One man confessed to the crime, but two separate and all-white-male grand juries refused to indict her attackers. They were never brought to justice. Incidentally, Taylor's case was handled by a young NAACP investigator – one Rosa Parks.
Many in Taylor's family, including Owens, did not know of the rape until historian Danielle L. McGuire spoke to Taylor for her 2010 book, At the Dark End of the Street: Black Women, Rape, and Resistance — a New History of the Civil Rights Movement From Rosa Parks to the Rise of Black Power.
Taylor's story was given an international platform after her story was recalled in Oprah's Golden Globes speech.
"She lived as we all have lived, too many years in a culture broken by brutally powerful men," Winfrey said. "For too long, women have not been heard or believed if they dared to speak their truth to the power of those men. But their time is up."
"Recy Taylor was an American shero and an Alabama treasure who spoke up in the face of racism, hate and sexual violence," Rep. Sewell told AL.com. "While she is no longer with us today, I think Recy Taylor would be proud to know that her granddaughter, Mary Joyce Owens, is attending the State of the Union in honor of her legacy and our ongoing fight against racism and sexual misconduct."
"By standing up to injustice over six decades ago, Recy Taylor inspired generations of men and women to hold perpetrators of sexual violence accountable," Sewell continued. "Mary Joyce Owens' presence at the State of the Union is a symbol of the bravery of all those who are speaking out and a reminder that we will not be silent in the face of injustice."
Recy Taylor died last month at the age of 97. At tonight's State of the Union, The Democratic Women's Working Group will be dressed in black, as others from Hollywood stars to music legends have in solidarity with sexual assault survivors. In addition, members of the Congressional Black Caucus plan to wear red "Recy" pins to honor her legacy.
Have a tip we should know? tips@mediaite.com