Reince Priebus Is Reportedly 'Apoplectic' Over Trump's Refusal to Support Ryan, McCain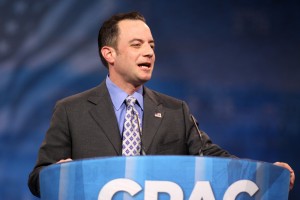 The chairman of the Republican National Committee is reportedly furious with his own party's nominee today.
Reince Preibus is "apoplectic" over Donald Trump's refusal to commit to an endorsement of House Speaker Paul Ryan and former party nominee John McCain in their upcoming primary races. Both Ryan and McCain face stiff competition, and yesterday Trump told The Washington Post that he's, "not quite there yet" with a Ryan endorsement, using strikingly similar language to that which Ryan used months ago regarding Trump's troublesome candidacy.
Top republican: @Reince is 'apoplectic' over Trump's refusal to back Ryan. He called several Trump staffers to express his displeasure.

— Katy Tur (@KatyTurNBC) August 3, 2016
Trump continued Tuesday, "I like Paul, but these are horrible times for our country. We need very strong leadership. We need very, very strong leadership. And I'm just not quite there yet. I'm not quite there yet."
The comments came just a day after Trump praised Ryan's opponent, Paul Nehlen, on Twitter. On that same day, Arizona Senator and 2008 nominee John McCain issued a lengthy statement rebuking Trump's treatment of the Khan family, which Trump used as fuel for his newest flap:
"I've never been there with John McCain because I've always felt that he should have done a much better job for the vets. He has not done a good job for the vets, and I've always felt that he should have done a much better job for the vets. So I've always had a difficult time with John for that reason, because our vets are not being treated properly. They're not being treated fairly."
Priebus has been silent on social media, though ironically, this is his last Tweet from July 28th:
It's on. Let's #MakeAmericaGreatAgain! Donate here: https://t.co/Cz3sjXwHM2

— Reince Priebus (@Reince) July 29, 2016
Have a tip we should know? tips@mediaite.com