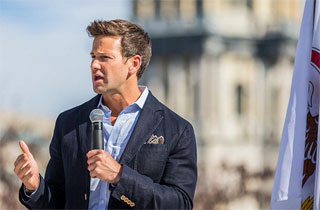 After weeks of questions surrounding his spending habits and possible ethics violations, Rep. Aaron Schock (R-IL) announced his resignation in a statement released today.
Schock, a former rising star in the GOP, came under fire after the media discovered that he accepted tens of thousands of dollars in free services and used taxpayer money to fund a lavish jetsetting lifestyle, meticulously documented on Instagram, while failing to keep precise records of his spending. Weeks ago, Schock addressed the allegations, saying that he would hire a third party to look into his records. It is unclear if they found anything improper, but Schock's resignation ain't a good sign.
Here's his resignation statement, as obtained by Politico:
"Today, I am announcing my resignation as a Member of the United States House of Representatives effective March 31," Schock said in a statement. "I do this with a heavy heart. Serving the people of the 18th District is the highest and greatest honor I have had in my life. I thank them for their faith in electing me and letting me represent their interests in Washington. I have given them my all over the last six years. I have traveled to all corners of the District to meet with the people I've been fortunate to be able to call my friends and neighbors."

"But the constant questions over the last six weeks have proven a great distraction that has made it too difficultfor me to serve the people of the 18th District with the high standards that they deserve and which I have set for myself. I have always sought to do what's best for my constituents and I thank them for the opportunity to serve," he said in a statement.
And now, a requiem for a millennial Congressman:
"Haters gonna hate." https://t.co/V1kV70tpL8

— Mitchell Rivard (@mitchellrivard) March 17, 2015
UPDATE (2:50 p.m.): According to Politico's report, Schock's resignation came less than 12 hours after they asked him questions about some rather sketchy mileage reimbursements:
Schock billed the federal government and his campaign for logging roughly 170,000 miles on his personal car between January 2010 and July 2014. But when he sold that Chevrolet Tahoe in July 2014, it had only roughly 80,000 miles on the odometer, according to public records obtained by POLITICO under Illinois open records laws. The documents, in other words, indicate he was reimbursed for 90,000 miles more than his car was ever driven.
(For scale, 90,000 miles = roughly three and a half trips around the circumference of the entire planet Earth.)
The Washington Examiner's Rebecca Berg points out that since lawmakers are reimbursed 56 cents per mile, "Schock might've pocketed $50,000+ from overreporting mileage".
[Politico]
[Image via Aaron Schock/Instagram]
—
>> Follow Tina Nguyen (@Tina_Nguyen) on Twitter
Have a tip we should know? tips@mediaite.com