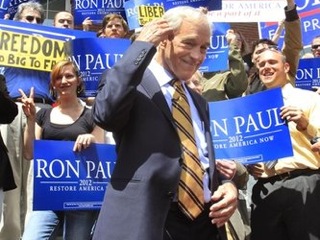 Texas Congressman and Republican presidential candidate Ron Paul announced earlier today that he will not seek reelection for his seat in Congress in 2012. Speaking to Texan publication The Facts, he said he feels his chances of winning the presidency this time around are high enough that it is smarter to focus on the presidential race than pour resources into the Congressional one.
"I felt it was better that I concentrate on one election," Paul told the paper, adding that he didn't feel the need to wait until the deadline for signing up for reelection to make his announcement. While he has rarely faced opposition in his district since reclaiming his seat in 1996 (he also served a term from 1976-1984 before stepping down for the first time), he added that "we have a lot more support right now" and that focusing on the Congressional race could cost him the Presidential election.
He also added, for those that may lament his work coming to an end, that his departure from Congress will mean nothing for his activism. "I have been talking about this for years… I will always be doing that. But not in the U.S. Congress." Rep. Paul has made a name for himself in Congress through his staunch positions on auditing the Federal Reserve, returning to the Gold Standard, and demands that Congress strictly adhere to the Constitution both in domestic and foreign policy. According to Gallup, he is currently hovering around 7% in the polls, and has won the CPAC straw poll two years in a row.
Have a tip we should know? tips@mediaite.com