Report: Facebook Hitting The Like Button On Robert Gibbs (AKA They're Trying To Hire Him)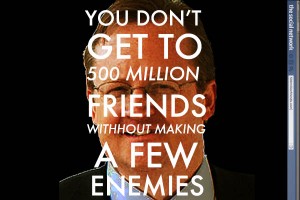 Hey, White House press conference fans, have you been in serious need of a Robert Gibbs fix lately? While, the former press secretary has been off the radar since he left the White House in February, a New York Times report may have a lead on his where he's popping up next: Facebook! Yes, the social media giant is apparently thinking of hiring Gibbs to "help communicate the company's message in the media, to investors and policy makers." This, of course, can only mean one thing. Mark Zuckerberg is finally repealing the ban on people in complicated relationships joining the Facebook army! Hooray!
While The New York Times explains that nothing's a done deal yet and this would conflict with the timetable Gibbs had previously set out for his future (work on President Obama's reelection and then go into the private sector), they do point out that, with all the attention the company received after the release of The Social Network, a guy like Gibbs would come in handy. And it wouldn't be such a bad move for Gibbs either. After all, Facebook is mega rich.
From the New York Times:
"A job for Mr. Gibbs at Facebook could be worth millions of dollars. While details of his potential compensation package have yet to be discussed, people briefed on the talks said that he would receive a cash salary as well as shares ahead of the initial offering. Facebook is being valued by some investors at more than $60 billion and could be the largest offering in history."
Remember, Mr. Gibbs, when discussing a salary with Facebook, a million dollars isn't cool. You know what is? Multiple millions of dollars.
(h/t Soup)
Have a tip we should know? tips@mediaite.com