Report: Fewer People Planning To Dress Up As Political Figures For Halloween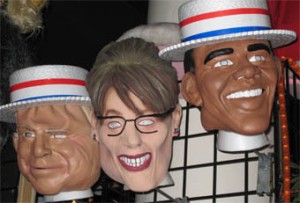 For some reason, people are not flocking to Halloween stores this year to go as Barack Obama or Michele Bachmann. How could that be?
According to The Washington Post, while people were dressing up as Sarah Palin in 2008 or Christine O'Donnell last year, this year, a year when the American political climate grew more divisive, less people want to be reminded of politics this Halloween season and just go as their favorite pop culture icon.
In this grim year, satirical minds recoil at all the touchy subjects. "A few people asked for Arnold Schwarzenegger masks," said [DC emporium manager Sandra] Duraes, wanly, since the Governator's travails summon thoughts of his wife's heartache. Charlie Sheen's excesses have been drained of their mirth, like a hangover…

Scanning the world headlines is hardly fruitful. Anything related to Japan's cascading catastrophes is as funny as cesium-induced organ failure. Dictators had a bad year, but could anyone draw laughs as Hosni Mubarak, wheeled around in a bed-cage? Duraes has seen a run on black curly wigs and mustaches, in service to Moammar Gaddafi get-ups, but the Libyan despot was hard to look at in his last cruel hours, and Duraes said that customers have amended the look to make it more pop-culty: "They're doing zombie Gaddafi."
Too soon, perhaps?
RELATED: Ohio University Group Speaks Out Against Racially Offensive Halloween Costumes On CNN
The WaPo article also contains some advice for those who do want to go as political figures, specifically the GOP candidates, even old favorite Richard Nixon, because his iconic face mask is "always a seller for some reason."
h/t WaPo
Have a tip we should know? tips@mediaite.com
Josh Feldman - Senior Editor