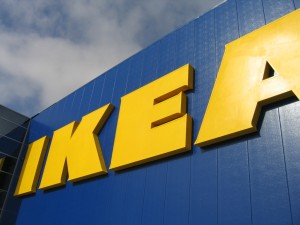 How many times has this happened to you? You're in your local furniture store, browsing through the aisles, and you say, "Gee, I like this furniture, but it doesn't remind me of the Nazis. Will I ever find a retailer that was founded by a Nazi?" Well, average citizen, you're in luck!
Because a new book coming out details how Ingvar Kamprad, the founder of IKEA, was very active in the Swedish Nazi Party. In the past, Kamprad has admitted his ties to the fascist group New Swedish Movement, but did not admit to being involved in the Nordic Youth (the Hitler Youth of Sweden, so to speak). But journalist Elisabeth Åsbrink dug up letters that Kamprad wrote as a teenager, indicating he was heavily involved in the group Svensk Socialistisk Samling, and helped recruit for the organization.
The Telegraph gives a few details about the book:
It quotes letters intercepted from Mr Kamprad, then 17, in which he enthuses about recruiting new members and says that he "misses no opportunity to work for the movement".

The secret service concluded that, as Mr Kamprad received the party's youth newspaper, he must have held "some sort of official position within the organisation".
When Kamprad was interviewed for the book, he gave particular praise to Per Engdahl, the leader of the New Sweden Movement, saying he "is a great man, this I will maintain for as long as I live."
This might be a good time to explain exactly who Per Engdahl is and what he believed.
[He] writes in the movements contemporary journal that "the Jews are an alien element in the Western public body" and that "an anti-communist movement can never reach its goal if it's not also anti-Semitic". In 1944, he describes Hitler as "Europe's saviour"

After the war, Engdahl distanced himself from the Nazi ideology and regime, but remained opposed to democracy and held on to fascist ideas.
However, the book also details Kamprad's early friendship with a Jewish refugee who not only lived with Kamprad on his family farm, but ended up being one of the key players in the eventual launch of IKEA.
But these new revelations have been dismissed as nothing new by Kamprad's spokesperson, who insisted the man still views his involvement with these groups as the "biggest mistake of his life," and also helpfully clarified that IKEA "is based on democratic principles and embraces a multicultural society."
h/t The Telegraph
Have a tip we should know? tips@mediaite.com
Josh Feldman - Senior Editor