WH: President Did Not Feel Earthquake, Is Not Thinking Of Ending Vacation Early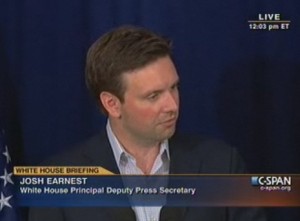 Principal Deputy Press Secretary Josh Earnest delivered a rare on-camera briefing from Martha's Vineyard Wednesday afternoon, and in addition to a raft of newsworthy topics like Libya and the President's upcoming speech on job creation, he fielded several questions about whether the President was considering ending his vacation early. He was also asked if the President felt yesterday's earthquake, and his reply on both counts was, in short, no.
While the complaining has been louder in some quarters than others, it's not just the conservative media who begrudge President Obama ten lousy days of vacation. The mainstream media has contributed to the din over the "optics" of the President's vacation, and have been salivating for him to end it like a bunch of kids waiting for "adult swim" to end so they can get back into the pool.

Earnest told reporters that there have been no discussions about ending the President's vacation early, and noted that the 21st century allows him to remain informed while untethered. He even praised the efforts of journalists reporting on events in Libya, saying, "He certainly is aware of what's being reported on television, but I don't know if he's seen those reports firsthand."
Fox News Chief White House Correspondent Ed Henry cracked, "Have you mostly been watching Fox, or…?"
Although Earnest issued a statement to this effect last night, he also told reporters that "The President did not feel the earthquake yesterday."
That revelation is sure to launch umpteen cracks about the President's indifference to the plight of lawn furniture, or something.
I've never been a fan of idiotic "optics" memes, even under President George W. Bush (you can look it up), and this annual buzzkill vigil over the President's vacation is beyond tiresome. The focus, this time, has been on the affluent surroundings, but such complaints ignore the fact that the logistical requirements of a presidential vacation would make any destination pricey. I shudder to think about the modifications that would be necessary for the First Family to inhabit the Jersey Shore apartment in Seaside.
Having said that, it would also be a pretty simple thing to dub the Martha's Vineyard file room something other than the "Mansion House Briefing Room."
Here's the clip, from C-Span:
Have a tip we should know? tips@mediaite.com