REPORT: Jared Kushner Seeking Chinese Real Estate Deal While Advising Father-In-Law Trump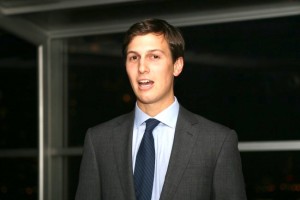 The New York Times dropped a report today indicating that President-elect Donald Trump's son-in-law, Jared Kushner, was "nearing agreement on a joint venture" with a huge Chinese financial company, Anbang Insurance Group, for the redevelopment of a piece of Manhattan real estate Kushner's company owns.
At the same time Kushner is negotiating this major project with a company that has expressed hope that Trump's election would be good for their global business, Kushner is being leaned on as an adviser for the incoming POTUS and he has hired a law firm to see how he can comply with ethics laws regarding his holding an official White House staff role.
The Times noted that the deal Kushner is working on has been in the works for a few months and had not been reported on before.
The Anbang talks, which have not previously been reported, began roughly six months ago — "Well before the president-elect's victory," Mr. Kushner's spokeswoman, Risa Heller, noted. That was, however, just as Mr. Trump clinched the Republican nomination. While the talks are far along, representatives for Mr. Kushner said some points remained unresolved. Ms. Heller declined to outline the financial terms under discussion.

Mr. Kushner, who declined to be interviewed for this article, has hired a leading Washington law firm, WilmerHale, to advise him on how to comply with federal ethics laws should he join the White House staff as an adviser to the president. The firm has concluded that one potential sticking point, a federal anti-nepotism law, is not applicable, though not all ethics experts agree. While the law prohibits federal officials from hiring relatives for agencies they lead, Mr. Kushner's lawyers argue, among other things, that the White House is not an agency and is therefore exempt.
The paper also highlighted the concerns surrounding Anbang, reporting that it is owned by dozens of companies which are in turn owned by shell companies that are controlled by around 100 people. Anbang is also deeply connected to the Chinese government, which previously caused President Barack Obama to seek other accommodations rather than stay at the Anbang-owned Waldorf in New York during a trip last year. The company's ties to the Chinese state have also led it to walk away from deals in the US rather than submit to additional scrutiny.
Trump has previously said that Kushner could be the lead person in any discussions with Israel and feels like he'll be the guy who can help create peace in the Middle East. He was also the person the White House contacted to discuss Trump's faux pas on the Taiwan call in regards to China last month.
Kushner and wife Ivanka Trump recently moved to Washington D.C., with both presumably having roles in the Trump White House.
[image via screengrab]
–
Follow Justin Baragona on Twitter: @justinbaragona
Have a tip we should know? tips@mediaite.com