REPORT: North Korean Residents Mock Kim Jong-un, Calling Him 'Pig' and 'Incompetent Child'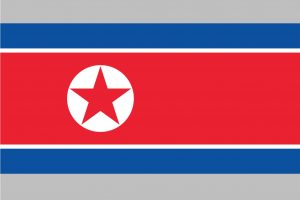 After the vicious election that we all just sat through here in the United States, it may seem strange to read a story about a country's leader simply getting criticized. But this is no ordinary country: it's the DPRK, where free media is nonexistent, all disseminated messages are carefully tailored by the state, and the regime's chokehold on messaging ensures that no one steps out of line.
However, there have always been indications that behind closed doors — really closed doors — the public perception about the country's current Supreme Leader is less than stellar.
And now Radio Free Asia is reporting on the newest spat of criticisms that residents of Pyongyang are using to bash their leader in private with. And just like some people do here in the United States, North Koreans are allegedly poking fun at a visible shortcoming of the Jong-un's: his weight.
RFA's Jieun Kim reports that resident are "mocking his obesity," and quickly sharing unflattering descriptions of the Supreme Leader. According to the report, "Expressions now commonly used to describe Kim in private conversation include 'pig' and 'incompetent child,' a source in Pyongyang told RFA's Korean Service, speaking on condition of anonymity."
The commentary likely comes from a recently-released video that shows Kim Jong-un touring the Taedong River Pig Factory in apparently less-than-fit shape. RFA's source says, "Close friends would watch the inspection video together and say, 'He seems happy to see his friends, the pigs,' or 'Among this group of pigs, the human pig seems the largest.'"
Another course of mockery by North Koreans according to the report is the Supreme Leader's inherent distrust of others. Some in the capital city of Pyongyang have jokingly said, "Kim Jong Un is going to hunt down every last North Korean."
In another pretty comedic twist of sitcom-type misunderstanding, the report notes that the frequency of power outages in Pyongyang have caused many local residents to install solar panels on their roofs, leading many to use the phrase "North Koreans believe in the Sun." However, Kim Jong-un himself is often referred to as "the Son," — literally, the son of Kim Jong-il and grandson of Kim Il-sung — so many have alleged that it's OK to continue using the phrase while still maintaining the integrity of its actual meaning.
[h/t RFA America]
Have a tip we should know? tips@mediaite.com