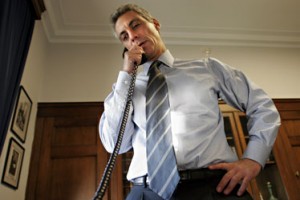 Rahm Emanuel may be leaving the White House, but that doesn't mean he's going to be back in his house. Chicago Sun-Times columnist and talking in the third person enthusiast Michael Sneed is reporting that the tenant Emanuel leased his Chicago home to has no intention of moving out now that the Chief of Staff is returning from Washington. We can only imagine the barrage of four letter words this development has incurred.
From the Chicago Sun-Times:
"The upshot: Sneed has learned the tenant, Robert 'Rob' P. Halpin, 59, who holds the lease with his wife, Lori, until June 2011, refused to budge.

'I'm told Rahm and a close lawyer friend made several polite phone calls to Halpin last week, but he bumped up against the wrong guy,' said a top Sneed source. 'Halpin reportedly conducts his business from the house and his two kids are in school. He doesn't want to move.'

In a telephone interview, Halpin, who described himself as an industrial real estate developer in the midst of heading to Louisville on business Monday, told Sneed: 'Look, according to the lease I am not allowed to speak to the media about the house.

'But I can tell you I have no plans to move.'"
To make matters worse (and, presumably, Rahm even angrier) the lease was apparently renewed only six days before Mayor Daley announced he wasn't going to run for reelection. Ouch! Fortunately, an election board spokesman says this most likely won't affect Emanuel's bid for mayor since his name is still on the lease. If this is true though, we can only imagine that someone will be arguing the opposite quite soon.
For more on the story including a quote from an Emanuel spokesman, check out the Chicago Sun-Times here.
(h/t Pat's Papers)
Have a tip we should know? tips@mediaite.com