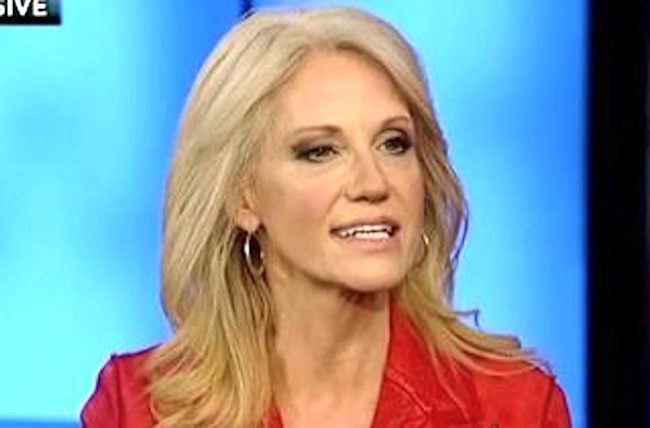 While she's still in the room (off-camera) at the White House press briefings, it appears that Counselor to the President Kellyanne Conway has been benched from what she's best known for, which is defending Donald Trump on TV. CNN Money reported on Wednesday that Conway will not be making TV appearances for a while after she strayed from the administration's official position in interviews about the resignation of National Security Advisor Michael Flynn. Specifically, she had said Flynn had Trump's "full confidence" a few hours before his resignation, and then, the following day, said Flynn had offered up the resignation. That was contrary to White House Press Secretary Sean Spicer saying that Trump asked him to resign.
One White House source told CNN that she went "off-message," with another adding that "Clearly they're having much more of a drama-free week," so "Having Kellyanne off television is helping them." This came on the heels of her getting in hot water over encouraging Americans to buy Ivanka Trump's clothing line in a Fox News Channel appearance.
Update: NBC's Hallie Jackson got a comment from Conway, who says this isn't true, with a TV appearance potentially coming as soon as tonight. Conway then reached out to CNN's Dylan Byers, who reported the initial story, to say that she will be on Fox News tonight. He stands by the story since "she hasn't been on TV for over a week," and pointed out that it's now become routine for the White House to not comment until a story is published so they can "do something to imply it's not true."
This is a developing story.
Have a tip we should know? [email protected]