Report: Trump Restoring Power to Lewandowski Amid Rumors of Frustration with Manafort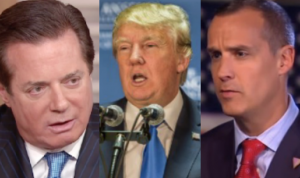 Reports from the Donald Trump campaign suggest that the plutocrat might already be tired of his new hires trying to give him a presidential makeover.
Trump has supposedly been playing a different political game recently, in an apparent behind-the-scenes attempt to portray him as more presidential. Much of this change has allegedly happened under the direction of Paul Manafort, who was brought on as Trump's convention manager before he ended up usurping power and responsibilities away from campaign manager Corey Lewandowski.
Though Manafort has made inflammatory remarks of his own since joining Team Trump, insiders told Politico that the mogul is rejecting efforts to mix his personality with a refined political operation. Trump is reportedly displeased the most with Manafort's work as a media surrogate and for promising that Trump will "evolve" after "playing a part" on the trail.
Manafort was accompanied by several of his people when he joined the Trump campaign, but even if Trump can be more presidential, his efforts have voters and media pundits wondering about what benefits that would actually entail. Manafort tried to explain some of the campaigns recent slumps on Fox News Sunday, but the report today reveals that Lewandowski is getting back some of his influence in the campaign.
"That's Trump. If you try to force him into a box, he's going to climb out of the box just to prove it to you," said one operative. "If you say he's going to be more presidential, all you did is make him less presidential."
[Image via screengrab]
— —
>> Follow Ken Meyer (@KenMeyer91) on Twitter
Have a tip we should know? tips@mediaite.com