REPORT: Trump Team Blocked Release of a State Department Holocaust Statement Naming Jews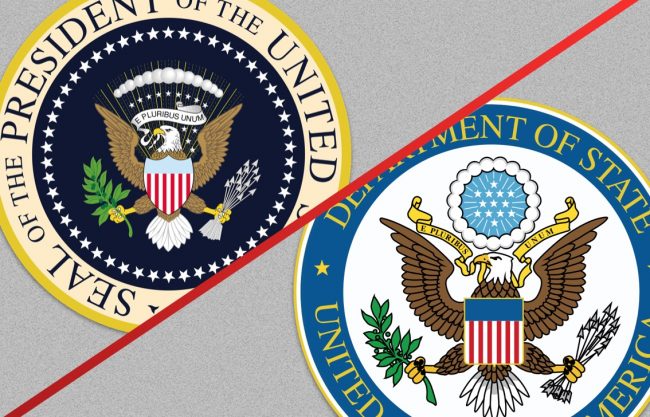 According to a four-bylined report this evening from Politico, the administration of President Donald Trump prohibited the release of a statement by the State Department for International Holocaust Remembrance Day — the same day when the President's own message to mark the occasion was met with widespread derision. Trump's statement failed to mention any members of the Jewish faith, saying in the statement simply, "it is with a heavy heart and somber mind that we remember and honor the victims, survivors, heroes of the Holocaust."
The State Department however, reportedly, had drafted its own statement that, "explicitly included a mention of Jewish victims," reports Josh Dawsey, Isaac Arnsdorf, Nahal Toosi, and Michael Crowley. The quartet cite a trio of people familiar with the State Department's actions last Friday.
The White House offered this reponse:
A White House official said there was no ill intent, adding that the White House didn't see State's draft until after issuing its own statement and told State not to release its version because it came after 7 p.m. And the official said the White House didn't ask the State Department to craft their own statement.
The Trump administration faced criticism for days with regards to the flap, with conversations in the zeitgeist going as far as to invoke the faith of the President's daughter and son-in-law as evidence of no ill will. Republican Jewish groups and lawmakers slammed POTUS' statement, including Maine Senator Susan Collins:
The Administration's omission of the Jewish people in a Holocaust remembrance statement is an historical mistake.

— Sen. Susan Collins (@SenatorCollins) January 30, 2017
Although the administration would not originally say who authored the statement as pressure mounted on the issue, after several days they offered that longtime advisor Boris Epshteyn was actually behind it the whole time. Press secretary Sean Spicer was defensive with reporters Monday, saying, "The president went out of his way to recognize the Holocaust and the suffering that went through it and the people that were affected by it and the loss of life."
Spicer firmly continued, "The idea that you are nitpicking this statement that sought to remember this tragic event that occurred and the people who died in it is just ridiculous."
Have a tip we should know? tips@mediaite.com