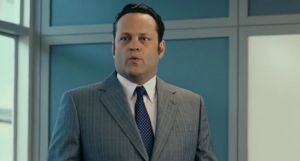 Universal Studios is taking heat from both Hollywood insiders, bloggers, and even Anderson Cooper over the new Ron Howard movie The Dilemma. And, no, it's not about the fact that they want us to believe Vince Vaughn and Kevin James could pull Jennifer Connelly and Winona Ryder, but rather the trailer which opens with a gay joke. Now Deadline Hollywood is reporting that Universal will alter the offending preview.
The movie is about a man discovering that his best friend's wife is having an affair. Its trailer opens with Vaughn explaining to a room of business executives that "electric cars are gay." He quickly points out that he doesn't mean "homosexual gay," which, in theory, is supposed to totally mitigate any offense. However, some viewers have been put off by the random gay joke in a trailer for a movie that has nothing to do with gay themes. Some, like Cooper, are even connecting it to the recent rash of teen suicides. Appearing on Ellen, Cooper used the trailer as an example of a culture that is all too permissive of anti-gay bullying and insults.
Deadline Hollywood's Nikki Finke got a quote from a Universal insider who told her they planned on altering the trailer but were surprised by the backlash since they "showed the trailer to gay groups like GLAAD and gay executives here and gays in our marketing department and no one was offended and everyone had a positive response."
In my personal opinion, the joke is a fairly off-putting way to open the trailer of a typical comedy. Still, what do I know? The audience I saw Social Network with seemed to get a big kick out of it. However, the jokes about painful urination that close out the preview got a less positive response.
UPDATE: GLAAD has contacted us to inform that the quote Finke received from the insider was inaccurate and that they had, in fact, asked the studio to remove the line when they were shown the trailer a month ago. They have now released this press release:
"October 08, 2010, Los Angeles, CA – Last month Universal sent GLAAD a link to the trailer for the film 'The Dilemma.' GLAAD called on Universal to remove the scene where the word 'gay' was used as a pejorative from the trailer. Today, after Anderson Cooper also spoke out against the scene, Universal confirmed to GLAAD that the offensive joke will be removed from promotional campaigns from this point forward, including in the trailer currently playing in movie theatres.

'The use of the word 'gay' in this trailer as a slur is unnecessary and does nothing more than send a message of intolerance about our community to viewers,' said GLAAD President Jarrett Barrios."
In an update on her site, Finke remarked about the inaccuracy saying, "In Hollywood, so the saying goes, you can know that someone is lying because their lips are moving." Meanwhile, Universal will apparently premiere a new trailer some time later today.
Watch the trailer below as well as the Anderson Cooper clip from Ellen. His comments on the trailer begin at the 5:45 mark.
Have a tip we should know? tips@mediaite.com