Report: Viewers 'Infuriated' When CBS, Fox Switched From 9/11 Coverage To Football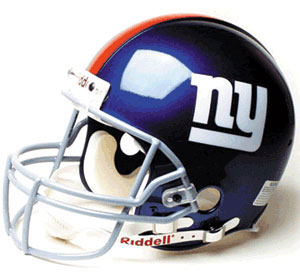 The New York Post reports this morning, in brief, that "CBS and Fox infuriated viewers yesterday by cutting away to the opening Sunday NFL match-ups — in the middle of the 9/11 memorial coverage." And they weren't even New York football teams!
According to the 75 or so NYP word item, viewers were left steaming when the networks switched from the reading of victims' names at Ground Zero to localized football coverage sometime around 1PM, about 20 minutes before the last of the 2,983 names was read. For many stations, live coverage of the memorial event began hours earlier, NY1 for one catching the day's early light when they went live sometime around 5:30AM. And even after networks turned over their special coverage, notes the Post, "The remainder of the 9/11 services could still be seen on about a dozen other channels."
Were you upset by yesterday's coverage? The Post doesn't cite specific cases of outrage, and so it's hard to say exactly how angry viewers were. However, we would also guess that there were as many viewers left "infuriated" by coverage cut short as there were "infuriated" to be missing their first taste of Sunday football this year — something of a patriotic event itself. The whole thing asks questions as to how much coverage is enough coverage? And could networks even possibly do justice? There will always be someone wanting more, and someone else wanting more football.
Meanwhile, the LA Times is reporting that yesterday's might have been the last ceremony to include a reading of the victims names. Mayor Mike Bloomberg first suggested the possibility last month on his radio show, saying that, "Some people have said, you know, we should go on forever. Some people have said change is good, and the subject's come up a couple times, and I think we've said the foundation board will talk about this." And of course, this sparked certain outrage, but there is no way to please everyone. "And you're never going to have unanimity," he said. "There will always be dissension."
Have a tip we should know? tips@mediaite.com