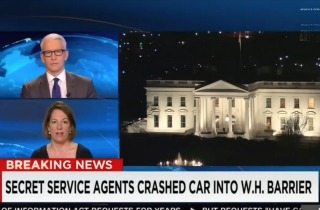 Political reporter Marc Ambinder took to the pages of The Week (where he's a contributing editor) to essentially retract his column in Politico Magazine earlier this week denouncing the Secret Service, in light of new information that greatly complicates the latest story of agency shenanigans.
Last week the Washington Post, which has been a regular thorn in the Secret Service's side, reported that two Secret Service agents had left a party drunk and driven a car into a White House gate, possibly disrupting technicians who were trying to determine if a suspicious package was a bomb. That sounded really bad, especially in light of previous agency scandals that compelled the resignation of former Director Julia Pierson.
Newly appointed Director Joseph Clancy took it on the chin in Congressional testimony this week, where he suggested that the story was greatly exaggerated. But new reports, via Huffington Post's Michael Calderone, suggest the agents had left the party hours earlier, not right before, and had been driving at about one mile an hour when they tapped an orange barrel, not recklessly but to clear it from the car's path. They did not disrupt the technicians.
"There's accountability, then, on two levels: Congress and an independent team from DHS," Ambinder wrote of the agents. "But what about accountability for those of us who basically repeated the factually untrue, derogatory information about the agents?"
He continued:
Even worse was this:

"This latest incident — where two high ranking Secret Service agents, while drunk, allegedly drove themselves into a crash barrier at the White House, disrupting a tense investigation into a suspicious package nearby, is heartbreaking."

I wrote that, in an opinion piece for POLITICO Magazine. Notice where I put the adverb "allegedly." I'm embarrassed I wrote that sentence. I further suggested that the incident smacks of the behavior of "high functioning alcoholics." I had no right to say that, at all. (POLITICO Magazine stands by the piece and doesn't think an apology is necessary — but I think I was wrong.)
The Post's report never used the clickbaity language of subsequent headlines ("drunkenly slamming into a White House barricade"), and the paper has distinguished its reporting of the story from more exaggerated versions.
FWIW, Politico has added a significant correction to Ambinder's piece:

"I do think that the Secret Service has an alcohol abuse problem," Ambinder wrote. "What we know about the March 4 incident tells us nothing about it."
[h/t The Week]
[Image via screengrab]
——
>> Follow Evan McMurry (@evanmcmurry) on Twitter
Have a tip we should know? tips@mediaite.com