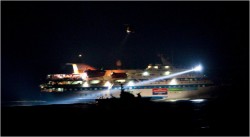 The fallout continues from Israel's raid on a flotilla trying to breach the blockade of Gaza, which resulted in nine deaths. Of the 600 people arrested during the raid Monday — all of whom are currently being held in custody by Israeli forces — 15 were apparently foreign journalists whose exact whereabouts have yet to be confirmed. From Richard Prince:
The press freedom group Reporters Without Borders Tuesday urged Israeli authorities "to release a list of the journalists who were arrested during yesterday's raid on the humanitarian flotilla and to say where they are being held. "There were at least 15 foreign journalists travelling with the flotilla who still cannot be reached directly."
[…]
Reporters Without Borders added that "an Al Jazeera TV crew was attacked by Israeli citizens in the port of Ashdod yesterday after the defence minister gave a news conference about the attack on the flotilla. Walid Al-Omri, Al Jazeera's bureau chief in the Palestinian territories, was injured in the attack, which followed virulent criticism of the Qatar-based TV station in the Israeli media."

The 15 arrested foreign journalists who still could not be reached were from Europe, Asia and Australia, according to the Reporters Without Borders list. However, journalists from the United States were apparently aboard the flotilla.
What remains unclear from this report is whether the U.S. journalists on board the flotilla were released or have yet to be accounted for. A list of the names of the missing journos can be found here. Meanwhile, according to the Guardian, the only reporter that managed a report from the ship was apparently Al Jazeera's Jamal Elshayyal who made this broadcast before communications were cut. Watch below.
Have a tip we should know? tips@mediaite.com