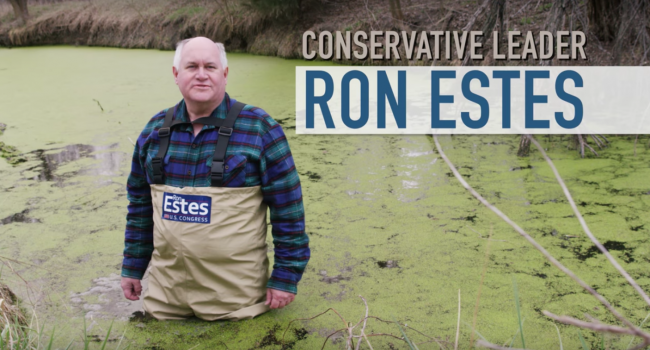 The GOP narrowly held on to a deep red House seat in Kansas Tuesday evening when state treasurer Ron Estes, triumphed over Democratic challenger James Thompson. When the night was over, Estes had it in the bag 53-46.
The seat, vacated by Mike Pompeo, now serving as President Donald Trump's CIA Director, has been in Republican hands for decades and was not expected to be competitive. The district went for Trump by 27 points.
The narrative, however, was upended by polling in the race's final days that showed Estes's lead to be in the single-digits. That precipitated a flood of national GOP campaign activity to save the seat. Senator Ted Cruz flew in to stump for Estes and both Vice-President Mike Pence and President Donald Trump recorded robocalls urging his election.
In a triumphant victory speech, Estes mocked the pundits and media who said his victory was ever in doubt.
"The pundits were talking about — this wasn't a seat we were going to win," Estes told cheering supporters, The New York Times reported. "That we were going to lose a Republican seat, that it was a special election, that it was a chance for the Democrats, they were motivated, there was a lot of angst against the president. But we really showed the pundits tonight, didn't we?"
The closeness of the contest will nevertheless be interpreted as a warning shot from voters as the 2018 midterms approach and Democrats energized since Trump's election as president.
.@TheDemocrats fight in Kansas is just the start of what we'll bring to campaigns across the county in 2, 4, 6 yrs & beyond. #KS04

— Chuck Schumer (@chuckschumer) April 12, 2017

[image via screengrab]
Have a tip we should know? tips@mediaite.com