Response And Fallout From Roger Ailes New York Feature: Ailes Thinks Palin Is 'Smart'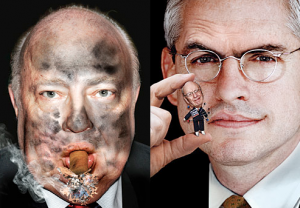 As the New York magazine profile of Fox News chief Roger Ailes continues to send shockwaves through the cable news universe, officials at Fox News are quick to clear up at least one inaccuracy while fair-minded readers of the article are left wondering about another question. Why did the piece feature a disparaging image of Ailes with a cigar blowing up in his face, while a similarly extensive profile of Media Matters founder David Brock, which appeared in the same issue of the magazine, showcased a flattering portrait of the Fox News nemesis?
The most intriguing charge in the piece was that Ailes believed one of his star employees, Sarah Palin, is truly "an idiot." Yet Bill Shine, executive vice president of programming for Fox News Channel adamantly denied the accusation and today told The New York Times:
"I know for a fact that Roger Ailes admires and respects Sarah Palin and thinks she is smart. He also believes many members of the left wing media are extremely terrified and threatened by her. Despite a massive effort to destroy Sarah Palin, she is still on her feet and making a difference in the political world. As for the 'Republican close to Ailes' for which the incorrect Palin quote is attributed, when Roger figures out who that is, I guarantee you he or she will no longer be 'close to Ailes.'"
The profile of Ailes is certainly not a hatchet job, and in fact paints an impressive portrait of a visionary captain who is extremely perceptive about what's happening in every corner of his ship at all times. Yet with an insulting image accompanying the profile and with the use of many anonymous sources forcing upon Ailes various unpleasant thoughts and feelings about his Fox News talent and potential GOP presidential candidates, it calls into question the fairness and potential motive of the entire piece.
Especially when the man who is trying to "take down Fox" (Brock) receives glowing treatment, the contrast in coverage highlights the particular glee with which New York magazine seems to get from turning conservative stars against one another. Sean Hannity hates Glenn Beck! Bill O'Reilly hates Sean Hannity! Roger Ailes is not fond of Sarah Palin or Glenn Beck! The fact that the liberal-leaning magazine might not be as fair to Fox News isn't shocking, but what may have surprised some is that instead of trying to hide their preference, the editors prominently and proudly illustrated it with the type of photo used to accompany each profile.
Check out the full articles on Roger Ailes and David Brock in New York.
Have a tip we should know? tips@mediaite.com