Review Says 'Garish' Trump DC Hotel Not For a 'True Discerning Luxury Traveller'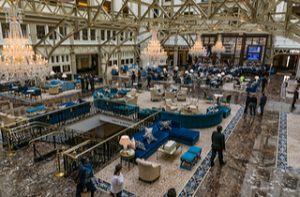 One of the things that President Elect Donald Trump would often boast about during his campaign was that he was coming to Pennsylvania Avenue even if he didn't win the election, thanks to the opening of Trump International Hotel D.C. It would be "one of the great hotels of the world," he said. But so far? The reviews say otherwise. According to The Washingtonian, behind the pay wall of the invite-only Luxury Travel Intelligence lies a fairly scathing review of the hotel, one that states unequivocally that "This place is not for the true discerning luxury traveller" and ranking it the third worst luxury hotel in the world. Only the Oahu, Hawaii Four Seasons and the Dubai Palazzo Versace got worse assessments.
"The building itself is undoubtedly impressive, but once inside we start to ask questions," LTI began, speaking of the former post office's facade, but it devolves from there. "LTI finds the décor a little garish and more quantity over quality," referring to a heavy dose of gold colored decorations and marble flooring.  "The whole experience seems a little forced, and therefore this place is not for the true discerning luxury traveller," with "Service [that[ is poor on occasions and lacks confidence."
LTI founder Michael Crompton added in an email to The Washingtonian that  "For quite a while there has been a move towards an understated elegance in new luxury properties. We had similar feelings towards [Scottish golf course] Trump Turnberry." In September, a Washington Post review of the main hotel restaurant shared a similar sentiment:
To access the new restaurant in Washington's most talked-about hotel, you navigate an atrium awash in white marble and carpets, climb two sets of marble stairs and follow a host to a buffed Macassar ebony table near an ornate railing overlooking the lobby. Are we in Vegas? Grand Central Terminal? The curved steel arches from the Old Post Office Pavilion have been painted gold; immense chandeliers drop from the beams.
[Photo: Shutterstock]
Have a tip we should know? tips@mediaite.com