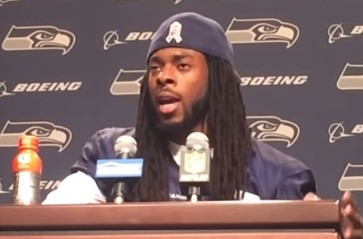 Seattle Seahawks cornerback Richard Sherman stood by his controversial criticism of the Black Lives Matter protest group and offered some context in an interview with ESPN's The Undefeated.
"We hear a lot about Black Lives Matter," Sherman said. "But I think race was created. I think everybody is a human being first and then the color of their skin wouldn't matter if nobody told you it mattered, if that makes any sense."
"What is your opinion of the Black Lives Matter movement?" asked interviewer Domonique Foxworth.
"It's hard to formulate an opinion and generalize because they have several different messages," he responded. "Some of them are peaceful and understandable and some of them are very radical and hard to support. Any time you see people who are saying, 'Black Lives Matter,' and then saying it's time to kill police, then it is difficult to stand behind that logic."
Sherman continued, calling the movement "hypocritical": "I stand by what I said that All Lives Matter and that we are human beings. And speaking to police, I want African-Americans and everybody else treated decently. I want them treated like human beings. And I also want the police treated like human beings."
The phrase "all lives matter" is commonly used by critics of the Black Lives Matter movement, and is therefore considered offensive by many its supporters. Democratic presidential candidates and pop stars alike have had to apologize or walk back their use of the term.
[Image via screengrab]
——
>>Follow Alex Griswold (@HashtagGriswold) on Twitter
Have a tip we should know? [email protected]