Richard Spencer Doesn't Buy Trump Denouncement: 'Only a Dumb Person Would Take Those Lines Seriously'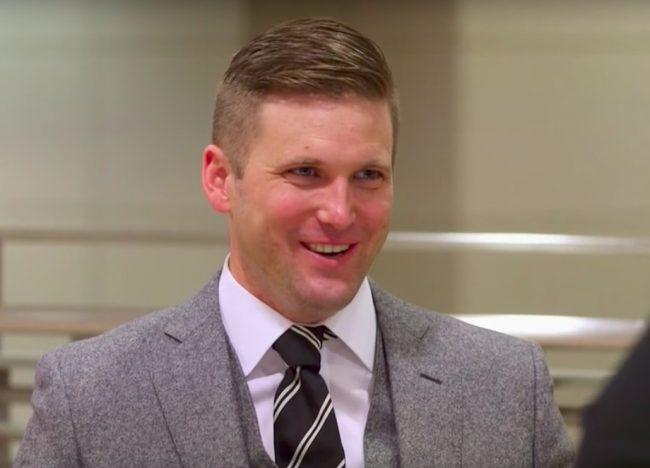 On Monday, Donald Trump finally condemned the white nationalist, neo-Nazi violence in Charlottesville, Virginia by name.
"Racism is evil," said Trump speaking from the White House. "And those who cause violence in its name are criminals and thugs, including the KKK, neo-Nazis, white supremacists and other hate groups that are repugnant to everything we hold dear as Americans."
But Richard Spencer, perhaps America's most famous Nazi, says he doesn't believe a word of it.
"His statement today was more kumbaya nonsense," said Spencer through his office, Business Insider reported Monday, "Only a dumb person would take those lines seriously."
Spencer's reaction was typical of what many mainstream figures had feared, that Trump's condemnation coming 48 hours after a woman was killed by a white supremacist terrorist, would not be taken seriously by the organizations which fomented the violence.
After Trump's similarly tortured and eventual denunciation of David Duke in 2016, the former Ku Klux Klan leader laughed it off, telling Fox News radio at the time that Trump should do whatever he needed to, to get elected.
By contrast, after Merck CEO Kenneth C. Frazier announced his company was leaving the presidents' American Manufacturing Council, Trump was on Twitter within minutes to offer a blistering condemnation.
Trump's statement condemning white supremacist violence was also undercut by his decision to retweet, just hours later, a post from Pizzagate conspiracist and alt-right hero Jack Posobiec.
Posobiec is a know friend of Spencer — which might explain why the latter may take POTUS' words less than seriously
[image via screengrab]
Have a tip we should know? tips@mediaite.com