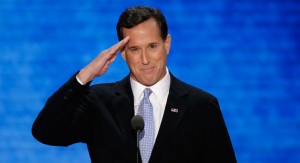 As early as late Wednesday night, Charleston police chief Greg Mullen has called the heinous shooting death of nine people at a traditionally all-black church a "hate crime." Soon after, eye witness reports suggested Dylann Storm Roof made racially-charged statements during the shooting.
Of course, since the event's location is a church, this complicates the matter further. That's why Fox & Friends speculated on Thursday morning that the shooting targeted Christians, and it's also the same reasoning that led 2016 presidential candidate Rick Santorum to argue the same thing on New York's AM 970.
Speaking on air with radio host Joe Piscopo, Santorum said:
"You just can't think that things like this can happen in America. It's obviously a crime of hate. Again, we don't know the rationale, but what other rationale could there be? You're sort of lost that somebody could walk into a Bible study in a church and indiscriminately kill people. It's something that, again, you think we're beyond that in America and it's sad to see."
Unlike Fox & Friends' Steve Doocy, Santorum doesn't necessarily downplay whether or not the Charleston shooting was a hate crime. He does, however, emphasize the possible anti-religious nature of the crime, and considers it the tragedy's defining quality.
"All you can do is pray for those and pray for our country. This is one of those situations where you just have to take a step back and say we — you know, you talk about the importance of prayer in this time and we're now seeing assaults on our religious liberty we've never seen before. It's a time for deeper reflection beyond this horrible situation."
Whether or not the shooting was a hate crime, an appalling act of anti-religious sentiment, or both remains to be seen. Such things cannot possibly be determined until the official investigation has concluded.
[h/t Washington Post]
[Image via screengrab]
— —
>> Follow Andrew Husband (@AndrewHusband) on Twitter
Have a tip we should know? tips@mediaite.com