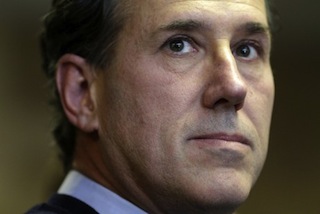 Say what you will about Rick Santorum, but when the man chooses to have a dog in a particular fight, he certainly… rides that dog into the sunset? Something, something. Case in point: Santorum very quickly expressed his support for Chick-fil-A as the chicken chain finds itself in the middle of a contentious national discussion on civil rights, marriage equality, freedom of speech, and consumer choice. On the heels of radio host Mike Huckabee's proposal for a "Chick-fil-A appreciation day," Santorum Tweeted that he was enjoying a peach shake at a Chick-fil-A restaurant.
And, now, the Penn State alum has come forward in support of his Alma Mater, which was recently stripped of its football glory in the wake of the Freeh Report's conclusion that Penn State's administration played a role in covering up former assistant head coach Jerry Sandusky's history of pedophilia and child rape while at the school.
Here's what Santorum told Dallas-Ft. Worth's KSKY 660 AM on Friday:
I actually read the Freeh Report. I don't know if you did or not, but I did. And, my concern with the Freeh report, a lot of the conclusions in the Freeh report aren't matched by the evidence that they presented and so I've been talking to a lot of folks at Penn State and they say, 'you're just gonna have to wait for the criminal trial of these two guys at Penn State.' I think there is going to be a whole new line set on what really went on there. So I'm sort of sitting back and waiting for the facts to come out as opposed to at least I'm being told is a version of the facts. […] Let's get the truth. So I think we're going to see some things come up a little different in the next six months. I just want to make sure we get it right.
Not necessarily the dog we'd publicly choose in an incident that resulted in at least 10 instances of child rape and molestation — especially as a candidate who has made a name for himself on a "family values" platform — but, hey. Free country.
Peach shake?
h/t ThinkProgress
Have a tip we should know? tips@mediaite.com