Rick Santorum Derides Health Care 'For Everybody!' As Un-American, Destructive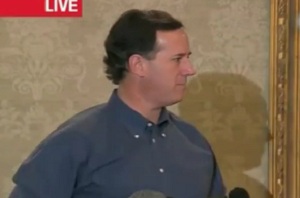 Surging Republican presidential candidate Rick Santorum is the bright, shiny new center of the media universe, and that dynamic is already paying dividends. At a campaign event in New Hampshire, Santorum stripped away all of the Frank Luntz-approved happy talk about health care, and exposed Republican attitudes about health care to the cold light of day. He mocked the idea of having "something for everybody," and clumsily equated health care inequality with freedom.
Much of Santorum's rhetoric in this clip is comprised of familiar talking points, but they're delivered so ineptly that they expose the cold, dead heart at the center of Republican positions on health care.
Santorum opens up with the familiar, false idea that the insurance company-friendly Affordable Care Act amounts to government-run health care, and says "they're trying to get rid of Health Savings Accounts" because "they don't trust you, that you can provide for yourself."
Health Savings Accounts are simply a vehicle to allow insurance companies to sell junk policies that don't cover anything, and that force people to ration their own care by cost. When they were introduced, I was a health insurance consultant, and my company pushed HSA plans hard, because they were easier to sell. While the premiums were about half that of traditional plans, the HSA plans were extremely profitable because the company paid out far less in claims. That advantage is compounded by the fact that sick or at-risk patients aren't likely to enroll in those plans, further reducing the cost to insurance companies.
Santorum followed this by saying, exasperatedly, "No, we have to have something for everybody! We can't have people having access to better health care…"
He stopped then, realizing that he'd given away the game, before editing himself to say "health insurance than other people. No! It all has to be the same! Is that American? Equality of result? Is that what built the greatest country in the history of the world? No. That's what's destroying most of the countries in the world."
That slip is all-important, because in matters of life and death, equality of result is supremely American. When someone's house catches fire, anyone's house, we expect that fire to be put out. When a person is being assaulted, we expect the police to come to their aid. That's the American way.
There's nothing to prevent the more well-off to hire extra security at their own expense, or elaborate sprinkler systems, but everyone expects that they won't be left to die. Unequal health insurance is fine; unequal health care is not. Unfortunately, one contributes to the other, and the Affordable Care Act, while better than the status quo, is still a half-measure. It's true that the law requires emergency treatment at the Emergency Room, but waiting for acute symptoms isn't health care, it's sick care, and it's sick.
The Republicans have made repealing Obamacare a focal point of their campaigns this year, and that could be a huge miscalculation. It is far from a sure thing that Americans will become nostalgic for the days when insurance companies could deny them care over a preexisting condition, or that they want to live in a country that makes people pay for losing a job with their health, or even their lives. People don't die because somebody else had access to health care, they die because they don't.
Here's the clip, from CNN:
Have a tip we should know? tips@mediaite.com