Rick Santorum: Early Childhood Education Is An 'Indoctrination' Ploy: 'Socialists Love Children'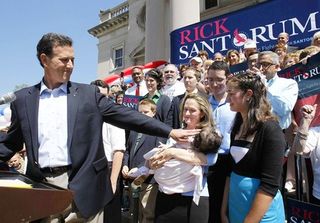 Former Republican Senator Rick Santorum has added another unconventional platform issue to his conservative campaign: opposing early childhood education. In a town hall in Iowa, the presidential candidate made clear he opposed any programs to put children in school as soon as possible, warning that they were ploys for socialists to take "your children from the womb so they can indoctrinate your children as to what they want them to be."
Santorum was quoted in the Des Moines Register speaking to a town hall this week, demanding that education be individualized. Somewhere along the track, however, he began to attack all early childhood education, arguing that parents should be educating children– not teachers– and that the threat of indoctrination loomed with public school education, particularly in early years:
"It is a parent's responsibility to educate their children. It is not the government's job. We have sort of lost focus here a little bit. Of course, the government wants their hands on your children as fast as they can. That is why I opposed all these early starts and pre-early starts, and early-early starts. They want your children from the womb so they can indoctrinate your children as to what they want them to be. I am against that," he said. […]

"We need to get the federal government out of that business. We need a leader in Washington to start talking with the states and the communities to rally parents to demand that the educational establishment in this country start meeting the needs of their child, not children. See, that is the difference. Obviously, socialists love children, just like they love people in groups of one million or more," he said.
Santorum also railed against the federalization of the educational system, noting that his children had all been to some degree home-schooled and that teaching children en-masse was an inefficient and dangerous process in the hands of the government. While he isn't the only Republican presidential candidate promoting education reform and a more localized approach to running schools, he may be the first to flat-out oppose early childhood education, and certainly the first to boldly use the phrase "socialists love children" as a way to scare voters away from them.
[h/t Wonkette]
Have a tip we should know? tips@mediaite.com