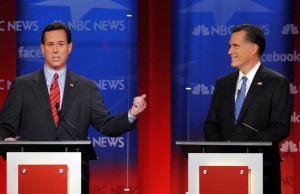 The Republican primary rollercoaster has taken another lightning loop in Michigan, as once-surging, lately-fading former Pennsylvania Senator Rick Santorum has re-taken the lead over Mitt Romney in a late poll of Romney's home state from Public Policy Polling. In the same poll, Santorum began with a 15-point lead earlier this month, but was trailing Romney by two points as of this past weekend.
PPP has released its final Michigan poll, and not only does it show Santorum with a lead, it also shows significant late movement in Santorum's direction:
PPP's final poll in Michigan finds Rick Santorum holding on to the smallest of leads with 38% to 37% for Mitt Romney, 14% for Ron Paul, and 9% for Newt Gingrich.

It's always good to be cautious with one night poll numbers, but momentum seems to be swinging in Santorum's direction. Romney led with those interviewed on Sunday, but Santorum has a 39-34 advantage with folks polled on Monday. The best sign that things have gone back toward Santorum might be that with those polled today who hadn't already voted, Santorum's advantage was 41-31.

Much has been made of Democratic efforts to turn out the vote for Santorum and we see evidence that's actually happening. Romney leads with actual Republican voters, 43-38. But Santorum's up 47-10 with Democratic voters, and even though they're only 8% of the likely electorate that's enough to put him over the top. The big question now is whether those folks will actually bother to show up and vote tomorrow.
It's not all doom and gloom for Mitt Romney, though:
Even though things seem to be moving back in Santorum's direction, there's one big reason to think that Romney will still come out as the winner tomorrow night. 18% of the electorate has already cast its ballots and with those voters in the bank Romney has a 56-29 advantage. Santorum's likely to win election day voters, but he"s going to have to do it by a wide margin to erase the lead Romney has stored. We see Santorum with a 40-33 advantage among those who have yet to vote.
It's important to note that PPP polled 922 likely Republican primary voters, but its sample only included 8% Democrats. There's a strong possibility that Santorum's Operation Chaos-style robo-calls spur greater-than-expected Democratic turnout. It's also possible that Santorum's tactic backfires somewhat, and energizes Republicans to turn out against him. Either way, Rick Santorum has a steep hill to climb in Michigan, but if he does reach that peak, it's bad news for Mitt Romney.
Have a tip we should know? tips@mediaite.com