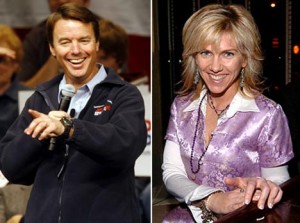 Rielle Hunter (of the infamous John Edwards scandal) is out with her tell-all memoir — because of course — to give us her version of what happened. Thus, it's aptly titled What Really Happened: John Edwards, Our Daughter and Me. While there don't seem to be any shocking revelations, the Washington Post's The Reliable Source blog and Reuters pulled out some interesting tidbits. Including one about sex tape: it wasn't her idea.
The book isn't salacious, the Post points out to those who may have expected that kind of tale. An example of how things have a way of "fading discreetly to black": "He led me to the most extraordinary night of my life. There was a lot of talk, a lot of laughter, and zero sleep."
Hunter tells us she wasn't very good at being a mistress. After all, "someone who is living a life devoted to spiritual truth is probably not going to be the best mistress." Hunter "never read any mistress handbooks, and therefore didn't realize how important it is … to keep your mouth shut!"
Furthermore, her biggest regret, Hunter said, was allowing Andrew Young, Edwards' political aide, claim paternity of their daughter. "Of all the things that happened in my relationship with Johnny the thing that I regret the most is going along with this stupid idea and allowing this lie to go public," she writes, per Reuters.
Oh, and that sex tape? It was Edwards' idea, supposedly:
That sex tape was his idea, when they were both "sleep-deprived" on an overseas trip, and she was not pregnant when they filmed it, and anyone who says she looked pregnant is lying.
Some other nuggets, via WaPo:
— In summer 2007, "I saw Johnny for two nights and he had never been sweeter to me. I remember thinking, 'Wow, he should renew his vows more often!'"

— After reconnecting with Edwards when he separated from his wife (evidenced by many, many recent photos of them as a family group with daughter Quinn, now 4), Hunter was frustrated that they couldn't recapture their old spark. "I began requesting couples therapy. …. I was met with many 'maybe, if I don't get indicted'-type responses." So she broke up with him. After he mended his ways, she agreed to take him back — a full 24 hours later.
Ah yes. Gotta hate those 'if I don't get indicted' responses.
Have a tip we should know? tips@mediaite.com