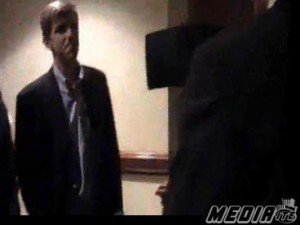 As more details emerge over conservative activist James O'Keefe's ugly attempt to lure CNN correspondent Abbie Boudreau onto a boat "filled with sexually explicit props and then record the session," many are waiting to see what the reaction from the online right will be. Early indications are that O'Keefe may find himself adrift, as the founder of conservative watchdog Media Research Center has scathingly denounced O'Keefe, and even O'Keefe mentor Andrew Breitbart shows signs of distancing himself from his onetime star.
MRC's Brent Bozell makes efficient use of space in vaporizing O'Keefe on Newsbusters:
The MRC unequivocally denounces James O'Keefe for his attempted assault on CNN. It isn't just childish and immature; it's ugly, dishonest and filthy. There is no place in the conservative movement for this type of behavior and that's exactly what I warned about in a commentary piece I submitted to CNN.com just two days ago.

"Could the Citizen Journalist abuse the public trust?" I wrote in this piece that should run in the next few days. "Hypothetically, of course. Conservatives must all guard against this. Let there be scrutiny, by all means." And I repeat: there must be scrutiny.

Bottom line: We want nothing to do with O'Keefe or his dirty antics.
Additionally, O'Keefe mentor Andrew Breitbart has popped up on Twitter, not to defend O'Keefe, but to respond to this tweet by Media Matters' Oliver Willis:
wow, @andrewbreitbart's crew strikes again. o'keefe planned to seduce cnn reporter on boat with sex toys
Breitbart responded by saying:
@owillis '@andrewbreitbart's crew'? do you want to get sued for libel?
To be fair, Breitbart wouldn't confirm that he was "distancing himself," but the fact that he waded into the O'Keefe issue without offering his support is telling.
While Boudreau's account of the incident is compelling in its own right, it is the excerpts of the 13-page "CNN Caper" document that really tell the tale. The sexually hostile trappings of the setup, corroborated by O'Keefe's would-be accomplice, make this incident nearly impossible to defend, but here's what will really force conservatives to denounce, rather than just ignore, O'Keefe's misadventure: as part of the proposed script, they anticipated Boudreau's objection that she's a married woman:
AB: You can't be serious. I'm married.

JO: Abbie, there's never going to be a right time for you and I. There's only right now.
The document also urges O'Keefe to have a "more sleazy persona than normal," and that he should be "touchy-feely."
It's touches like these that will make it impossible to shrug this off as a mere "prank," rather than an "assault," as Bozell characterizes it. Look for more conservative denunciations to follow. Not only is this incident radioactive, but as I reported earlier this year, O'Keefe isn't nearly as beloved by conservatives as you might think.
Have a tip we should know? tips@mediaite.com