Right To Bear Harms: Vice President Joe Biden To Meet With NRA On Gun Violence Thursday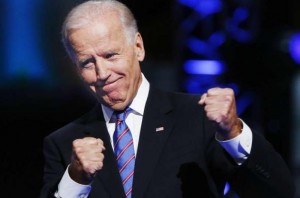 When President Obama announced Vice President Joe Biden's task force on gun violence, in the wake of the horrific mass shooting at Sandy Hook Elementary School, he promimsed that the White House would "reach out to a bunch of stakeholders."
The Huffington Post's Sam Stein reported Tuesday, and White House Press Secretary Jay Carney confirmed, that the White House has even reached under a rock, and invited the National Rifle Association to meet with Biden on Thurday, along with other gun owner groups. Having already made their "contribution" to the discussion, here's hoping the NRA holds that stake between their teeth, and lets the sane people talk.
HuffPo's Sam Stein reported that "As part of the (task force's ) process, Biden will be speaking with key lawmakers, officials and stakeholders in the debate, including the National Rifle Association, an NRA official confirmed."
At Tuesday's White House daily briefing, Jay Carney confirmed the news:
The powerful gun lobby, the National Rifle Association, has been invited to meet Vice President Joe Biden as he considers recommendations on how to respond to a mass shooting last month in Newtown, Connecticut, the White House said on Tuesday.

Spokesman Jay Carney told reporters the NRA is "one of many" gun owner groups invited to meet with Biden on gun violence issues.
The National Rifle Association has not earned a seat at the table, which makes this news disappointing. As a practical matter, it would be difficult for the White House, or the Vice President, to claim the mantle of consensus without inviting the group, but hopefully, Joe Biden won't forget to bring the ice-cold pitcher of STFU that he'll surely need to quench the group's thirst for harm.
In case you, or Joe Biden, missed it, the National Rifle Association used the week following the Newtown tragedy to hype their own press conference, at which they promised to reveal "meaningful contributions" to reducing gun violence. When that day came, one week to the minute after the nation learned of the tragedy, the organization's mouthpiece, Wayne LaPierre, blamed everything under the sun, including President Obama, except the portable arsenal that was used to do the killing. His "meaningful contribution" was to demand federal funding to place a police officer in every school, when weeks earlier, he had endorsed a candidate who explicitly opposed such funding (LaPierre, in making that endorsement, also explicitly referenced armed revolution).
LaPierre also offered firearms training to teachers, a "solution" that we can only hope will never be put to use, but which has already produced a windfall for gun retailers. His organization is hopelessly out of step with gun owners, including its own membership.
If Joe Biden has invited the NRA to this meeting in order to lend it some veneer of credibility it might not otherwise have, so be it. They had their chance to make a meaningful contribution, but now, the most valuable thing they can offer is their silence.
Have a tip we should know? tips@mediaite.com