Right-Wing Media Figures Push Debunked Lie to Smear Broward Sheriff: He 'Has A Lamborghini'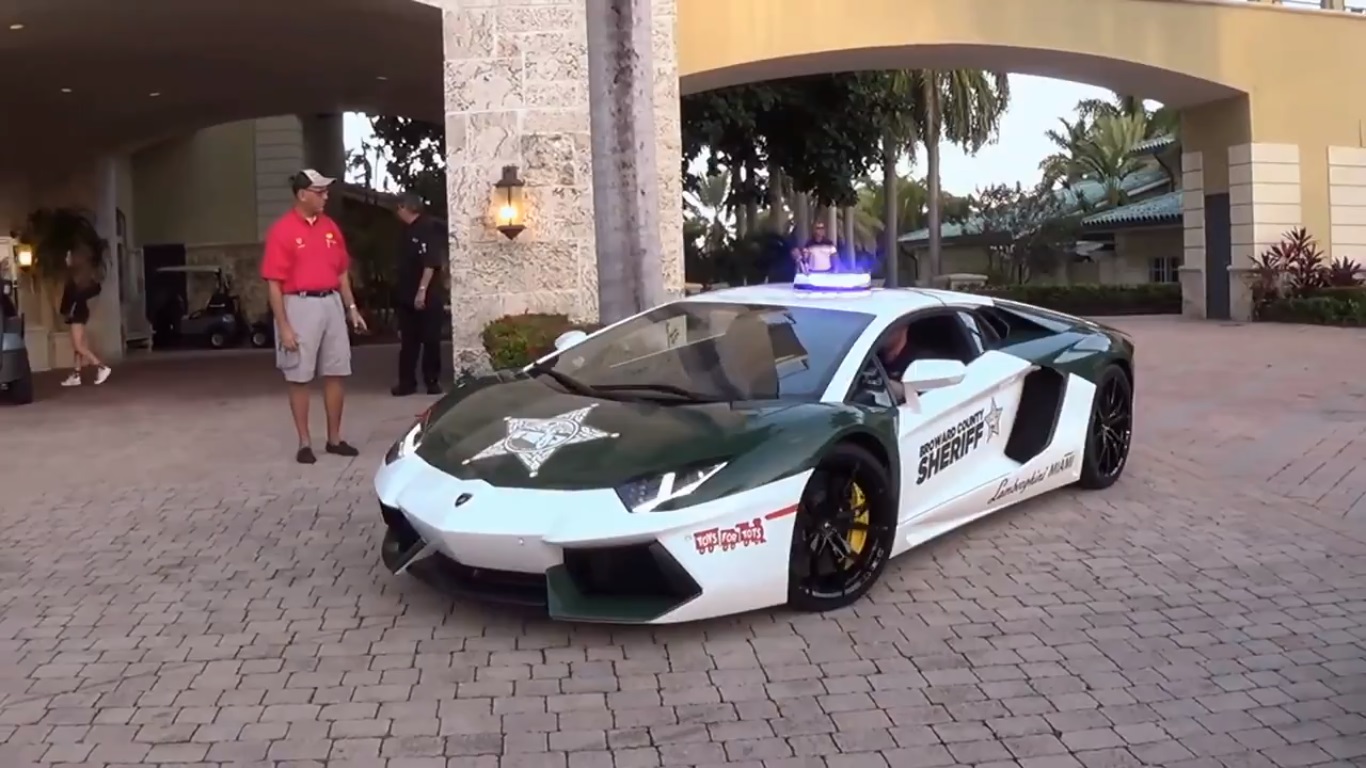 With Broward County Sheriff Scott Israel facing attacks from conservative media figures for his feud with the NRA in light of the Parkland, Florida shooting, right-wing pundits falsely accused the law enforcement official of owning a taxpayer-funded Lamborghini — despite the claim being debunked four years ago.
The District of Columbia's most notorious serial plagiarist took the chance to pounce on the sheriff, as the Daily Caller's Benny Johnson jumped into the controversy by doing what he does best — stealing content from others and misleading his gullible audience in an attempt to go viral.
In his latest mistake, Johnson tweeted a clip he yanked from YouTube of a Lamborghini Aventador covered in Broward County police decals driving around South Florida. While the Broward County sheriff does not actually own an exotic Italian super car — as Johnson alleges — that didn't stop the fired BuzzFeed writer guilty of over 40 counts of plagiarism from tweeting: "Broward County Sheriff has a Lamborghini — in case you were wondering."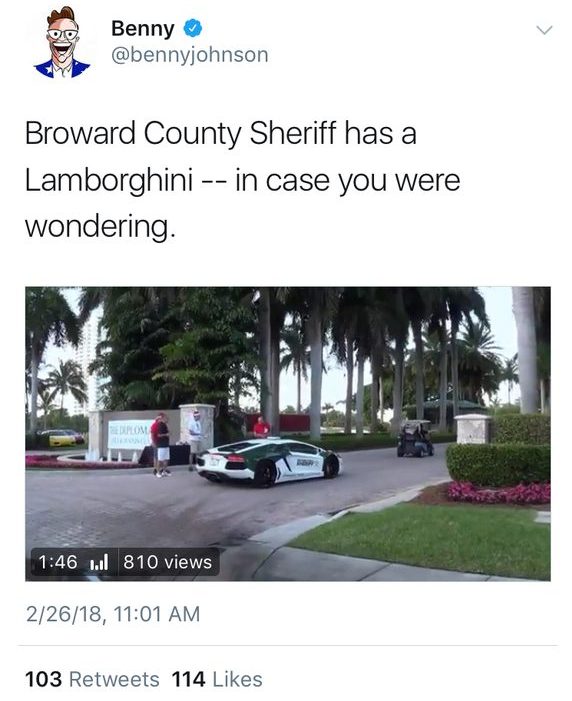 However, as reported by the New Times Broward-Palm Beach, the cop-themed Lamborghini was actually on-loan to the department as part of a Toys for Tots charity effort and was never actually owned by the sheriff or used for police work.
In classic Benny-style, Johnson did his best @dril "Im sorry. Im trying to remove it" impersonation by deleting his initial tweet and correcting the misinformation with two follow-up posts:
Clarification on the Broward County Sheriff Lamborghinihttps://t.co/djrwOnri3Y pic.twitter.com/WdKojVctGX

— Benny (@bennyjohnson) February 26, 2018
This Lamborghini was wrapped for the annual Toys for Tots charity event. Broward Sheriff's Office rented the car & wrapped it for a few days under a special contract w/ exotic car dealer.

More here:https://t.co/djrwOnri3Y pic.twitter.com/hurFcim4AP

— Benny (@bennyjohnson) February 26, 2018
Johnson's history of plagiarism and spreading misinformation is not even the extent of his career's screw-ups. He was demoted and eventually fired from the right-wing Independent Journal Review after a report from Business Insider alleged he was a "verbally abusive manager" who was accused by his own co-workers of even more plagiarism. He was also involved in pushing a debunked conspiracy theory regarding Barack Obama's involvement in a Hawaii judge's ruling against President Donald Trump's travel ban.
Despite his less-than clean reputation, he managed to land a spot at the Daily Caller — a far-right tabloid that once suggested Johnson has a foot fetish — last year just after his most recent firing.
Other right-wing media figures who fell for the debunked claim include CRTV's Gavin McInnes, conservative Hollywood celebrity James Woods, and author Dinesh D'Souza:
Salary for superintendent @RobertwRuncie $400k+
Lamborghini $200k+
17 dead after rampant incompetence PRICELESS https://t.co/4VzZdViK2D

— Gavin McInnes (@Gavin_McInnes) February 26, 2018
Maybe better employee vetting could have been done with the money spent for this? pic.twitter.com/uzJNtZqVQJ

— James Woods (@RealJamesWoods) February 26, 2018
I assume Broward County Sheriff Scott Israel got this Lamborghini so that his men could arrive swiftly on the scene of the crime pic.twitter.com/61dwNe0JXp

— Dinesh D'Souza (@DineshDSouza) February 26, 2018
[images via screengrab]
Follow the author on Twitter (@calebecarma).
Have a tip we should know? [email protected]