RNC Delegate 'Highly Offended' By 'Mexican' Employee Working Disney's 'America Pavilion'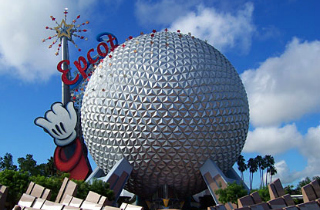 Prior to their visit to the Republican National Convention last week, Pennsylvania Republican delegate Mark Harris and his wife Irene spent a few days at Walt Disney World in Orlando, and were "highly offended" to find a Mexican employee working at the American pavilion of the resort's Epcot Center.
Epcot features a "World Showcase" which contains pavilions representing eleven countries including the United States. On the couple's personal blog, Harris wrote that her husband complained to staff that they were "highly offended" that a "person from Mexico" was "working in America" while the other representative pavilions were staffed by employees from each respective country.
"He was very civil but his point was well-made," the blog post concluded.
The comments were quickly condemned by some Pennsylvania Republicans, including Snyder County GOP Commissioner Malcolm Derk, who said: "The statements made by Mark and Irene Harris are uninformed and highly offensive. The Harrises' comments show their ignorance as they cast judgment on someone they do not know. They do not speak for our county or party."
Harris contacted a local newspaper to defend himself, saying that, "This is getting taken out of context."
He explained: "What we said is that in Epcot we saw a man that had a name tag that said 'Eddie, from Mexico,' and we felt that in the America section of the park, there should have been Americans."
Epcot employees typically wear name-tags bearing their hometown. Disney is known for its rigorous hiring process and it is unlikely that the employee the Harris couple spotted was just some Mexican citizen haphazardly working the America pavilion, but rather a Mexican-born man who is now also an American citizen.
Those do exist, you know.
"Americans are people of any race, color or heritage," Derk said in his rebuking of Harris. "Cheers to the individual working at Epcot for showing what a true American looks like."
[h/t ThinkProgress]
>> Follow Andrew Kirell (@AndrewKirell) on Twitter
Have a tip we should know? [email protected]