Rob Lowe Best Choice To Be Ripa's Co-Host on Live!, But Here's Another Free Agent To Consider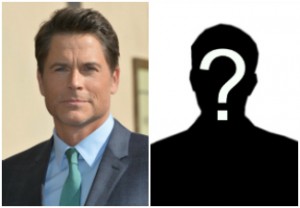 For Kelly Ripa, there really is only one solid — and more importantly — obtainable host to take over for Michael Strahan:
Sure, he's 52… but the guy doesn't look far departed from his Oxford Blues/Youngblood/About Last Night/St. Elmo's Fire heyday. He lives in California with his family, yes. But logistics mean little here if Strahan is any guide, given the former All-Pro flying back and forth from New York to Hollywood to prep for and co-host Fox NFL Sunday while still carrying out his duties on ABC. As for performance, he's guest hosted on the show in the past (during a 2012 bake-off following Regis Philbin's departure, where he proved to be more than capable, particularly as a probing interviewer).
This candidate would normally not be available for a New York-based show, but he's now a free agent thanks for Fox's (short-sighted) decision to end what was arguably the best new comedy of the past season in the form of The Grinder, which only earned a 93 score (out of 100) on Rotten Tomatoes. Context: Top comedies like Modern Family scored an 89, The Big Bang Theory came in with an 82 and 2 Broke Girls tallied just a 59. The option starred with Fred Savage (of Wonder Years fame) and the acclaim was there, but ratings were anemic in the same way they were for Tina Fey's 30 Rock early on. But unlike NBC which stuck by the show knowing what it had, Fox pulled the plug on The Grinder… putting the arguably still-relatively-affordable future co-host back on the market again.
For Live! with (rotating guest host) and Ripa, the only choice is Rob Lowe. Because when looking at the other options, they're either not available, respectfully not interested, or too pricey.
Those names include one Anderson Cooper, who has received his share of praise in this space. Solid breaking news anchor and debate moderator, even better in the field and particularly faraway/dangerous places, and you have to admire his work ethic starting from the very beginning of his career… asking for no favors just for being Gloria Vanderbilt's son and filing reports from war zones by forging a press pass just to be there before eventually catching on with ABC. Cooper is also very close with the aforementioned Ripa and her husband. And like Lowe, has also guest hosted on Live!
Ripa is pushing ABC execs hard for Cooper, but it just ain't going to happen for these reasons:
It's an election year. And as you've heard, not just any election year. Cooper takes his job very seriously via meticulous prep and the aforementioned work ethic in general. Most notably, the 48-year-old recently told Howard Stern on his Sirius XM show that he wanted to, if anything, cut back on his work schedule, which includes the not-so-small task of being a 60 Minutes correspondent. Live with Kelly just ain't happening… unless the show would prefer to throw in rotating hosts until 2017 after the election and transition until Inauguration Day comes.
Neil Patrick Harris is another name being bandied about. But he may be too high-priced for ABC to take on, earning a reported $400,000 per episode during the last season of How I Met Your Mother (not bad for a 22-minute show with five main characters to split the time). Ripa already earns a reported $20 million per year, so to pay someone at NPH's level might not be something even ABC can really afford. really… particularly when considering the show generates a reported $30 million annually for the network. Even paying Patrick Harris half of Ripa salary eats that revenue up, never mind production and additional staff costs.
E!'s Andy Cohen, Mark Consuelos (Ripa's husband of 20 years, where familiarity may make any disagreements or playfulness look contrived) and actor Taye Diggs are also on most short lists. But Lowe — now a free agent — is the best choice. The guy still looks great, has been a female favorite going back to the 80s and still has his performance chops if his turn as JFK in Nat Geo's Killing Kennedy is any indication, and is therefore already a household name. But if Lowe isn't your first choice and the others mentioned above aren't your cup of tea, here's one more name to consider:
Peyton Manning.
The recently retired Super Bowl champion is quite possibly the best athletic pitchman since Michael Jordan or Arnold Palmer. And even in unscripted moments during postgame pressers, there's an inherent dry wit, likability and presence there that has attracted the sponsors it has. Tom Brady has twice as many Super Bowl rings (4) than Manning, yet we hardly see #12 in any national ads. Peyton, conversely, is everywhere for a reason. He has an "it" factor that should at least earn him a test-drive with Kelly for a few days.
Anderson Cooper, NPH, Mr. Ripa. All good choices but ultimately wrong for the reasons outlined above. Rob Lowe — who is both relatively affordable, widely known and the most capable — should get the nod.
But let's give Peyton a shot as well. It's outside the pocket, yes, and TV executives are notoriously risk averse, of course. But there's very little downside in giving him a shot if the best option isn't available.
— —
Follow Joe Concha on Twitter @JoeConchaTV
This is an opinion piece. The views expressed in this article are those of just the author.