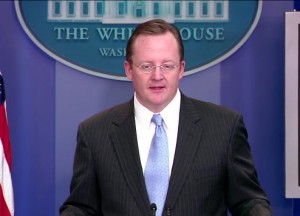 On the heels of this morning's announcement that he will be leaving the White House, Press Secretary Robert Gibbs fielded many questions regarding his future, and his possible successor. Gibbs played it characteristically close to the vest, divulging very little in the way of new information, but he spoke about his plans, and at one point, seemed poised to get a little misty when talking about the relationships he has formed during his tenure.
Alas, he was spared a Boehner moment by a trademark Gibbs "instance of laughter," this time at the expense of Assistant Press Secretary Nick Shapiro.

Gibbs was tight-lipped about his possible successor, although the smart money is on Deputy Press Secretary Bill Burton. He did speak about the need to "recharge" after such a sustained breakneck tenure, and later told NBC's Savannah Guthrie that his last day at the White House will be "sometime in early February." .
In this clip, Gibbs speaks about his future in some fairly general terms, and also downplays the notion that a post-White House Gibbs will be "unleashed" on the media. He's not exactly known for pulling punches now, so there probably won't be much daylight between his current style and his temperament in is new role.
When Chip Reid asks Gibbs to get into what went into his decision to leave the White House, the press secretary said "I have a difficult time talking about myself," but spoke emotionally about his "love and respect" for President Obama, and the White House staff that he considers "among the best friends that I have," and finishes by saying that there's a "little boy who could use a ride to school once in awhile."
He then lightens the mood with a reference to Assistant Press Secretary Nick Shapiro, and his surfing ways. Here's the video, from C-Span3:
Have a tip we should know? tips@mediaite.com